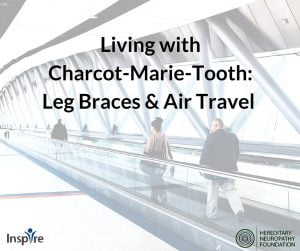 Living with Charcot-Marie-Tooth can be challenging when it comes to air travel.
CMT patients who wear leg braces may encounter longer security checkpoint times and difficulty navigating stairs and sloped walkways.
Planning and preparation are key to making your holiday travels safe and comfortable.
CMTers who use leg braces share their tips and best advice for air travel in our CMT Inspire Community.
Join HNF's online support group today, share your stories, and have conversations with other CMT'ers in a place created just for you!