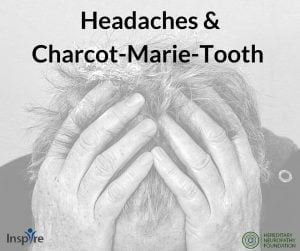 HNF wants to help our Inspire members get answers to questions related to Charcot-Marie-Tooth.
One topic that has been addressed is headaches and CMT. Some CMT patients have reported tension headaches from off-balance gait, scoliosis, and neck & spine arthritis.
Discussing these issues with your medical provider is critical to getting the help you need today. 
When HNF partnered with the Inspire Community, our mission was to encourage conversations just like this one.
Come join the conversation and many more with other CMT'ers and share your experiences with our Inspire community!