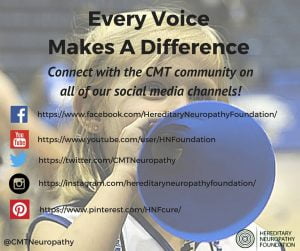 Whether you were born with a smartphone in your hands, or you just figured out what "The Twitter" is, we can't deny the powerful and pervasive effects of social media in our daily lives.
We are living in the Social Age where every Facebook share, trending #hashtag, and Instagram like can travel at breakneck speed to every corner of the world. Social media has created an unprecedented level of connection and communication. One voice can become the voice of tens of thousands in a matter of seconds.
That's why it's so important for you to join The Hereditary Neuropathy Foundation on all of our social media channels. A collective social media voice, backed by a thriving CMT community and robust fundraising efforts, will grab the attention of the lucrative industry influencers we need to achieve our ambitious goals for the future.
Don't think your voice is making a difference?
Check out our stats during September's Charcot-Marie-Tooth Awareness Month:
The CMT Update Newsletter  New Signups: 143
Global Registry For Inherited Neuropathies (GRIN): 35 New Registrants
Inspire Support Community: 25 and climbing!
Facebook Page Reach: 116,049
September Donations: Donations up 50% from August!
This kind of awareness and community growth are essential and will translate into the much needed research funds we need to find a cure for Charcot-Marie-Tooth!
Come join us and connect with the CMT community on all of our social media channels HERE:
Facebook: https://www.facebook.com/HereditaryNeuropathyFoundation/
Youtube: https://www.youtube.com/user/HNFoundation
Twitter: @CMTNeuropathy https://twitter.com/CMTNeuropathy
Instagram: https://www.instagram.com/cmtwegotthis/
Pinterest: https://www.pinterest.com/HNFcure/
Vimeo: https://vimeo.com/user29044114
Looking forward to connecting. By helping us, we are helping you!