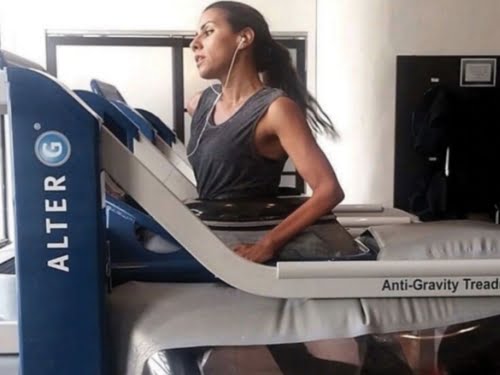 HNF is excited to announce a new avenue of research for improving the physical and emotional well-being of individuals living with CMT. Beginning this summer and continuing through the coming year, we will be funding and conducting an exclusive research study for people with CMT featuring the AlterG anti-gravity treadmill in New York City!
CALL 212-600-4781 TO LEARN MORE AND TO ENROLL!
This incredible new technology allows patients to stand, walk, and be supported as needed to improve balance, gain endurance, and reach greater speed, all without the risk of falling! This innovative machine—which was designed by NASA—features an airtight casing and powerful series of fans. Patients are zipped in and are able to reduce their body weight and the effects of gravity down to 20%.
This new combination of "weightlessness" and support was enough to allow Estela Lugo, a patient with CMT, to run for the first time in her adult life. "I lost all movement from the knee down before the age of 10 and have been wearing AFO's since kindergarten. I didn't think I would ever experience running in my lifetime. I stepped into this machine and was running within a few minutes. There aren't any words to completely describe how amazing that felt." One year and 116 miles later, Estela is displaying encouraging results and is more determined than ever to bring this technology to the CMT community. "We believe that movement is medicine and can greatly improve quality of life. The AlterG gets patients moving in new ways and pushes the boundaries of disability." We are hopeful that bringing the AlterG and more mobility activities to patients with CMT will help to improve independence and quality of life for the community. 
Dr. James Nussbaum, PT, PhD, SCS, EMT, physical therapist and research and clinical director of ProHealth & Fitness PT OT in Manhattan, is an expert in the rehabilitation of patients with CMT. He has been treating patients with CMT and other neuromuscular diseases for more than 15 years, and has presented his research throughout the US and abroad. Dr. Nussbaum is leading our AlterG exercise study in New York city, and the enrollment is currently open. Interested patients or family members should call 212.600.4781 and ask about the AlterG CMT study.
Study participants will have a diagnosis of CMT, and will come in for an extensive initial evaluation, and then will do 30 minute exercise sessions three times a week for three months. Patient will be re-evaluated at the conclusion of the study and then again three and nine months later to assess changes in balance, mobility, and quality of life.
Study participants will participate free of charge, and will agree to partake in the thrice weekly sessions and the assessments of the study. Patients of all abilities are eligible to be evaluated: those with and without braces, with and without assistive devices (canes, walkers, etc.) may be eligible.
TAKE THIS AMAZING OPPORTUNITY TO BENEFIT FROM THE CUTTING EDGE OF RESEARCH IN CMT, CALL TODAY! 212.600.4781 AND ASK ABOUT THE ALTERG CMT STUDY.
WWW.PROHEALTHPTOT.COM