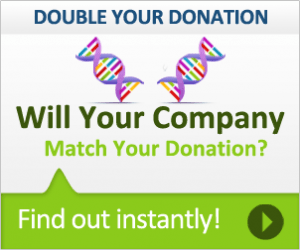 Corporate employee matching gift programs: What are they and how do they benefit HNF's Therapeutic Research In Accelerated Research (TRIAD) program?
Corporate matching gift programs are charitable giving programs setup by corporations in which the company matches donations made by employees to eligible nonprofit organizations. For example, if a donor works for Bank of America and donates $100 to the Hereditary Neuropathy Foundation, Bank of America will double the donation by also writing a check for $100.
Thousands of companies offer matching gift programs. A couple examples include:
• Johnson & Johnson – Triples donations with $2:$1 matches for current employees while also doubling donations for retirees.
• Home Depot – Matches donations $1:$1 up to $3,000 annually per employee.
The impact of these programs can be substantial! In 2011, Microsoft matched $48.9 million worth of employee donations to schools and 501(c)3 nonprofits. Fifteen million employees work for companies with matching gift programs.
Are you one of the millions working for a company that offers matching gifts? HNF has set a goal for 2015 to raise $10,000 from these programs. By meeting our goal, $20,000 will go directly to CMT Research.
For more information, visit our website