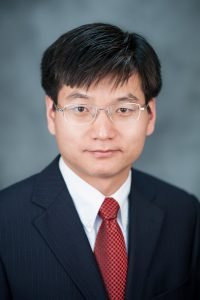 Dr. Xinliang "Albert" Liu, PhD, is an assistant professor in the Department of Health Management and Informatics at the University of Central Florida. His research focuses on health services utilization, costs, quality of care, and performance evaluation of healthcare organizations. Dr. Liu's research expertise includes the development of novel methodological approaches for clinical and policy issues such as the impact of different treatment patterns, medical complications, and effectiveness of interventions in real world settings. Dr. Liu received an MD-equivalent degree from China and a PhD degree in health services research from Virginia Commonwealth University.
Dr. Liu shares the consensus that CMT is a lesser known disease and more research is needed to shed light on the experiences of patients with CMT. He will discuss how to fill the information gap to better serve the CMT community at the Summit. He will also present a poster that examines the acute hospital care used by patients with CMT in Florida.
HNF: Why did you choose your particular topic for the Summit?
Dr. Liu:
Little systematic research exists regarding the care utilization, costs, and quality of care among patients with CMT. For example, we don't know the economic burden of CMT and such information is needed for health planning and care improvement. I am passionate about using my knowledge and research expertise to serve the CMT patient population.
HNF: How has CMT affected your life?
Dr. Liu:
Although I don't have CMT in my family, I am getting to know more and more individuals whose lives has been affected by this condition. I look forward to learning more about this disease and the research needs of the CMT community at the Summit.
HNF: What do you hope attendees take away from the Summit?
Dr. Liu:
I hope that patients can realize that they are not alone. There are collaborative efforts to help them enjoy their lives while living with the disease.
HNF: Anything else you'd like to share with the community?
Dr. Liu:
I genuinely hope to know more about patients with CMT: how current treatment options work for them, how they find insurance coverage for their care, what issues they encounter in the health delivery system, and so on. Such conversations will help me find opportunities to design research studies that improve their care experiences.