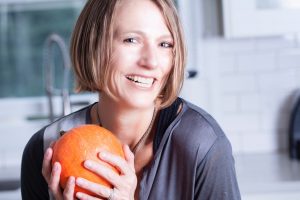 The Hereditary Neuropathy Foundation is proud and privileged to introduce Stefanie Sacks, our keynote speaker at the first Patient-Centered Charcot-Marie-Tooth Summit on October 6, 2016 in New York City.
Stefanie Sacks, MS, CNS, CDN is a Culinary Nutritionist, author, consultant, speaker and food firebrand!
She has been studying food and healing for 30 years, has her Masters of Science in nutrition from Teachers College, Columbia University, is a Certified Nutrition Specialist, Certified Dietitian Nutritionist and is a graduate of the Natural Gourmet Institute for Health and Culinary Arts.
Stefanie works hands-on with individuals and groups seeking a healthier way of eating. For companies and organizations looking to do the right thing for their consumers and environment, Stefanie is the go-to- gal—her unique background in food and agriculture as well as health and wellness gives her the knowledge and skills to guide groups towards true food transparency, sustainability and ultimately health as a consultant, speaker and media expert.
Her clients range from chefs and others in the industry—including Jean Georges Vongerichten and Chef's Warehouse as well as Titan Tea, a food product company—as they aim to create a more transparent supply chain as well as bring real nourishment to their offerings. She is also allied with many consumer, health and environmental organizations locally and globally offering her expertise to several including United Nations, A Greener World and Environmental Working Group.
In addition, Stefanie was the co-starter of the very visible and successful #WhatTheFork petition at Change.org to push Whole Foods Market and Walmart to start selling ugly fruits and vegetables thus addressing massive food waste in the United States.
Her teaching experience is extensive. She is as a preceptor for Columbia University's Dietetic Internship program and was an adjunct professor in the graduate nutrition program at the University of Bridgeport. Sacks also served as faculty at Kripalu Center for Yoga & Health as well as Food As Medicine, the universally acclaimed professional training program. She has also inspired many through workshops at Donna Karan's Urban Zen Center, various resort spas, wellness centers, schools and universities around the country.
Her book, What The Fork Are You Eating? An Action Plan for Your Pantry and Plate (Tarcher | Penguin Random House) provides an aisle-by- aisle rundown on how to shop and cook healthier. She is a firm believer that small changes in food choice can make big differences and is a sought after speaker, consultant and media guest expert on the topic of healthy choices, with frequent appearances on the Dr. Oz Show, PBS, Fox Media, and multiple radio programs.
She also hosted her own radio show, Stirring the Pot, on Hamptons NPR, WPPB 88.3FM for three years. Her extensive online and print contributions include The Huffington Post, Alternet, Family Circle, Prevention, fortune.com, foxnews.com and foxbusiness.com.
Sacks lives on the East End of Long Island with her husband, two very active young boys and Blossom, the family dog.
Let's learn more about her journey with nutrition, the five things you'll always find in her fridge, and what cooking show star she would love to cook with.
HNF: What inspired you to study food and how it impacts health?
Stefanie:
I suffered with terrible allergies, asthma, recurring bronchitis and pneumonia as a kid. Doctors kept drugging me and I kept getting sicker. At the age of 15 (in the 1980's) I started working in local health food market and café as a summer cook and it was there that I picked up Food & Healing by Annemarie Colbin, Ph.D. There began my journey of connecting what I ate to how I felt.
I became my own guinea pig as I cleaned up my diet, dabbled in many different dietary approaches from macrobiotics and vegetarianism to the blood type diet (to name a few). Ultimately, Dr. Sherry Rogers, an environmental MD and author of Tired or Toxic, supported me in my quest to find health and wellness through a mixture of allergy shots, supplements and diet and lifestyle shifts in the late 80's and early 90's.
I went on a very specific diet for 2 months under her care and after the first month I was able to go off every one of my five medications. My health and my perspectives about the impact food choice had on my health outcome became forever etched in my being. And I was determined to teach others what I had learned.
Fast forward 20 years, I became ill and unfortunately teams of doctors were unable to properly diagnose me for almost 10 years. It was a very difficult period in my life and one where I turned to all I had learned about food and health from my adolescent experiences to my formal culinary training as well as my years at Teachers College, Columbia University while studying for my masters of science in nutrition education.
I knew that I was doing all I could to keep myself healthy through food choice but that wasn't enough. After two avoidable surgeries, I was finally diagnosed in 2010 with a renal disease (thought to be genetic) that affects how my kidneys regulate the pH of my blood (and caused a cascade of symptoms, irreversible problems and challenges that impact my everyday).
In terms of my diet, quite coincidentally, because it had been so healthy for some 25 years, it was more difficult for the doctors to make a diagnosis because the disease markers were inconsistent compared to a person eating a more processed foods diet. While my diet kept me so healthy for so long, it also made it more difficult for the doctors to diagnose me!
HNF: What has been the biggest food topic in the last 5 years?
Stefanie:
The biggest food topic always seems to center around the next best weight loss solution or super food. What actually takes center stage at any given moment tends to be about marketing dollars more than anything else.
Despite this ongoing conundrum, consumers are surely seeking healthier options and wanting more food transparency—a good thing. But we are a long way off in terms of people really understanding what authentically healthy means.
HNF: How have you seen nutrition impact those with chronic illness and disease?
Stefanie:
I revert back to my own experiences and see what changing my food choices over the years has done to my own health.
And professionally, I can only speak about what I see and I can truthfully say that I have helped hundreds of people (if not thousands), over the years, on navigating food choice and shifting dietary patterns to support health. When committed and compliant with my suggestions (and those of some of my trusted colleagues), my clients, students, readers and listeners tend to see a great change in how they feel even with small changes like removing all foods containing artificial ingredients and of course more complex ones like removing pro-inflammatory foods or following a specific "medical" diet.
HNF: What role can nutrition play for CMT patients and their caregivers?
Stefanie:
There is no research that I am aware of that focuses on CMT and food choice. However, Dr. Terry Wahls, an MD with multiple sclerosis (also a demyelinating disease) has done extensive research into the effects of the Paleolithic diet on improving symptoms.
I believe that educating CMT patients on how to navigate healthy food choices (within the context of what they can and can't do) as well as exploring a modified Paleolithic diet may be a good first step!
HNF: What are the biggest challenges people face when making food choices?
Stefanie:
Each person has different challenges—and that must be honored. However, if I were to choose an across the board challenge it would have to be that people think that they need to change everything immediately.
Shifting takes time, especially if needing and wanting it to last is a priority. Always know that small changes make the big differences. My goal is to set people up for success, not failure!
HNF: What is an "Edible Awakening?"
Stefanie:
Simply put, getting educated on how to make healthier food choices. I like to think that my book, What The Fork Are You Eating, will give readers the Edible Education they need to begin their Edible Awakening!
HNF: What can each of us do right now to make a big difference in our health and wellness?
Stefanie:
Make a commitment to yourself to get educated and pick up a copy of my book! From there you can choose one or two things to start shifting. For example, it may be that will start by removing all food dye from your diet (whether in pickles, soft drinks or baked goods).
HNF: What are your top three tips for teaching children to make healthy food choices?
Stefanie:
Get your Edible Education so you can talk to your children about food in the right way.
Get them involved in everything food from shopping, to putting away groceries to cooking.
Grow food in pots or plant a garden and let them take the lead here.
HNF: If you could be a guest on a cooking show, which one would it be?
Stefanie:
I would love to cook alongside Rachel Ray. Her audience is cross section that needs capturing and if I could challenge Rachel to sprinkle a little authentic health conversation (and ingredients)—in my What The Fork way—into her food then together we would have the chance to shift a larger percentage of the population.
HNF: Name 5 things you will always find in your fridge.
Stefanie:
Avocados
Cucumbers
Kale
Citrus (lemons & limes)
Apples
HNF: What do you hope attendees take away from your keynote?
Stefanie:
I hope that attendees appreciate the true value food choice has—what and how we eat—on health outcome.
We literally are what we eat (and we are what they ate and they were treated when it comes to animal foods). Eating healthfully does not have to break the bank. With the right education and commitment on your part, small changes are possible and will make a big difference.
We can't wait to hear more from Stefanie at the Summit!
Want to ask Stefanie your questions in person?
Come join Stefanie and all of us at the first Patient-Centered Charcot-Marie-Tooth Summit October 6th in New York City.
You can read more about Stefanie and her mission on her website.
Connect with her on social media:
And be sure to check out Stefanie's TEDx Talk