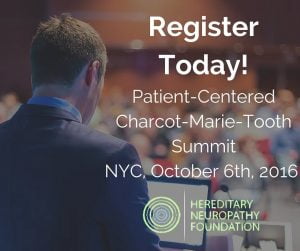 The Hereditary Neuropathy Foundation is proud and honored to conduct the first year Patient-Centered Research Outcomes Summit (PCROS) at 3 West Club in New York City on October 6, 2016. With partial support from PCORI's Eugene Washington PCORI Engagement Award, PCROS is an innovative event led by patients and stakeholders.  
The mission of the summit will be to discuss current research and identify gaps in the field of Patient-Centered Outcomes and Comparative Effectiveness Research (PCOR/CER) for the Charcot-Marie-Tooth (CMT) and Inherited Peripheral Neuropathies (IPN) Communities. This ground-breaking summit will include patients with all forms of IPNs, caregivers, clinicians, researchers, funding agencies, and industry to discuss the barriers and opportunities impacting the translation of patient-reported outcomes into objective measures.
PCROS will focus on putting the unique voices of patients, families, and advocates at the center of the research process from topic generation to dissemination, and the implementation of results to share with the CMT and IPN communities.
"HNF believes that patients and advocates working alongside funded scientists and clinicians will lead to the identification of the critical issues and gaps to further enhance PCOR," shares HNF's CEO and Founder Allison Moore. "This may enable developments that are most likely to show direct benefit for patients to move research toward a more patient-centric approach."
In addition, patients will have the chance to hear the latest in research developments, participate in panel discussions with clinicians, and voice their needs and priorities in regards to research and treatments.
Joy Aldrich, HNF's Advocacy Director and CMT patient states:
"This Summit provides a unique opportunity for those living with CMT and IPNs to meet researchers (and vice versa) who are working hard to understand and find treatment for our disease, but maybe they've never actually met someone with our disease. As patients we will also have the chance to set the course of research and treatment based on what we want and need, not what they think we need."
PCROS is developing an exciting agenda which you don't want to miss. Check out some of the innovative and progressive topics covered at this landmark event:
"The Fearless Caregiver": The role of the caregiver's voice in patient-driven research.

Gaps in available Patient Reported Outcomes and barriers to therapy development.

Patient engagement advocacy.

How The Standard of Care and Clinical Outcome Measures impact the patient and future research.

The pros and cons of participating in clinical trials.

Creating one patient voice among all stakeholders.

Genotype and Phenotype: Managing symptoms and the role of researchers and clinicians.

"The High-Arched Foot": The disease state of awareness challenge.

Personalized exercise prescription for patients.

Pharnext Update On Phase 3 PXT-3003 Clinical Trial.
The success of this summit not only relies on the participation of patients, speaker, and stakeholders, but on the involvement and visibility of sponsors to support our event.
We are currently accepting applications for sponsors for PCROS. It's never too early to become a sponsor and be part of this historic event in the CMT and IPN communities.
HNF is offering five levels of sponsorship. Each level provides the sponsor with opportunities for print and digital advertising, social media mentions and display, and Summit registrations. Higher level sponsors will also receive additional signage and speaking opportunities.