The Hereditary Neuropathy Foundation sponsors events that serve multiple purposes.  We inform, we teach, we raise money to find a cure.  Here you'll find out about them all, and maybe think about co-hosting with us in your area! Please contact [email protected] for additional information.
Thursday, April 21, 2016 Rochester, NY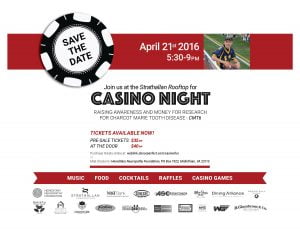 Join us for Casino Night at the Strathallan Hotel Rooftop. Register today for an evening of fun, food, cocktails, raffles and casino games to benefit Charcot-Marie-Tooth Disease – CMT6. Register today!
2016 TD Five Boro Bike Tour – May 1, 2016
HNF is thrilled to have been chosen for the 5th year as a Charity Partner for the 2016 TD Bank Five Boro Bike Tour. This means more participants riding to increase awareness of Charcot-Marie-Tooth, and thousands more dollars raised to fund research into treatments and a cure. This year we were given 10 spots! Click here to register!
For more information contact [email protected] to be a part of the Five Boro Bike Tour to ride with the Hereditary Neuropathy Foundation, so dust off that Schwinn and meet us in the Big Apple!
GRACE'S  COURAGE CRUSADE  BRUNCH – August 2016
Please join us for the 8th Annual Grace's Courage Crusade held at The Dunes Club to support Grace's Courage Crusade, a passionate mission of the Sidoti/Caldarone family to fund research for CMT Type 2, which affects Marybeth Caldarone and her daughter Grace.  One of the premiere efforts of the Caldarones is the writing and publishing of Arlene On the Scene, a children's chapter book which is spreading like wildfire across the country, building crucial awareness of Charcot-Marie-Tooth and how it can affect children and families. An exquisite brunch, raffle items and the famous dessert auction an event you won't want to miss! 
BRIDGE/BRUNCH FUNDRAISER –  January 2016
Please join us January 23,  2015 10:30am at the Broken Sound Country Club, Boca Raton Florida. Join Board Members Iris and Nat Adler for an exquisite brunch and card  party to benefit the H.E.L.P fund/HNF at Broken Sound Country Club in Boca Raton, FL. All proceeds will be donated to the Hereditary Neuropathy Foundation to support people living with Charcot-Marie-Tooth and to fund research into CMT type 2, which affects the Adler's grandson Elliot.