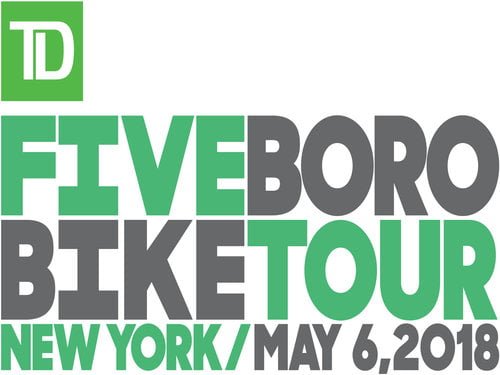 The Hereditary Neuropathy Foundation (HNF) is thrilled to have been chosen for the eighth year in a row as a Charity Partner for the 2018 TD Bank Five Boro Bike Tour. This means more participants riding to increase awareness of Charcot-Marie-Tooth (CMT), and thousands more dollars raised to fund research for treatments and a cure!
The ride takes place on Sunday May 6, 2018 and Team CMT riders will cover 42 miles through the five NY boroughs. The ride starts just north of Battery Park, up through Manhattan, Central Park, around a brief loop in the Bronx and down to the Queensboro Bridge. After a ride over the Pulaski bridge passing through Brooklyn, participants will enjoy an incredible view from the lower deck of the Verrazano Bridge, a entire one mile uphill ride with a 1 mile downhill ride of relief before entering the X Park to celebrate another amazing year!
Here's a snapshot of the inspiring Team CMT riders and why they are participating in this year's TD Bank Five Boro Bike Tour:
Korri Daniels-Browne
This is Korri's first year riding in the TD Bank Five Boro Bike tour. She is riding in honor of her nephew Jakeb, who was recently diagnosed with CMT4J, and is eager to do all she can to raise awareness and funding for CMT. Korri is a pediatric speech-language pathologist living in Brooklyn with her husband and two cats.

Matt & Donna Downing
A husband and wife team that works tirelessly with HNF to raise funds for HNF's Therapeutic Research In Accelerated Discovery (TRIAD) program that supports CMT research. Matt also is HNF's Board of Director Secretary and works behind the scenes. Matt has biked all eight years in the TD Five Boro Bike Tour.
HTTPS://HNF.DONORPAGES.COM/BIKENEWYORK2018/DOWNING/
Debi Houliares
Debi is an HNF board member and is riding in honor of her son Zach who has CMT6, an extremely debilitating form that also causes blindness. Debi is passionate about raising funds to support gene therapy approaches to cure CMT.
HTTPS://HNF.DONORPAGES.COM/BIKENEWYORK2018/ DEBORAHHOULIARES
Allison Moore
Allison is the CEO/Founder of HNF and has participated in this event year after year. She has dedicated her life to those with CMT and has been critical in collaborating with patients, researchers, industry and all stakeholders in accelerating therapies that are now in clinical trials.
HTTPS://HNF.DONORPAGES.COM/BIKENEWYORK2018/ALLISONMOORE/
Tess Quadrozzi
Tess is a dedicated year after year rider in the TD Bank Five Boro Bike Tour in honor of her friend Allison Moore and we are grateful for her dedication. Tess is an avid biker and Allison says, no one seems to love this ride more than her! She often will take Allison along on her long rides leading up to the big day so she is as prepared to take on the full 42 mile ride.
HTTPS://HNF.DONORPAGES.COM/BIKENEWYORK2018/TESSQUADROZZI/
Patrick & Joe Reilly
This father son team are riding for their daughter/sister Dakota who has CMT1A and had so much fun last year that they decided to join the team again in 2018. Dakota and her mother Kerin tireless support HNF and are pivotal in shedding light on how difficult it is to live with CMT and have been in the spotlight – national news.
HTTPS://HNF.DONORPAGES.COM/BIKENEWYORK2018/JOEANDPATRICK/
VIDEO CLIP: WWW.HNF-CURE.ORG/PHARNEXT-PLEODRUG-CMT1A/
Dr. Florian Thomas
Our special friend and caring neurologist who is always there to support HNF, and its members (especially those patients and families) takes on NYC with his lovely wife, Sarah Griesbach and will ride in tandem to support CMT research!
HTTPS://HNF.DONORPAGES.COM/BIKENEWYORK2018/FLORIANTHOMAS/
Dave Washabaugh
Dave is an avid cyclist and will ride for the second year as a charity rider. He and some of his family members have CMT, so he has dedicated this race to raise funds for CMT. Dave has been an important contributor to our patient centered research initiatives.
HTTPS://HNF.DONORPAGES.COM/BIKENEWYORK2018/ DAVEWASHABAUGH2017/
Jeffrey Wilson
Jeffrey joined Team CMT to ride in the TD Bank Five Boro Bike Tour. He is riding to raise funds for research and to help people with CMT and their families. Jeff's son has CMT. This will be Jeff's third year in a row participating in this ride. In fact, he rode in the very first Spin-For-Cure and we are grateful to him and the rest of our riders for their selflessness in supporting our community.
https://hnf.donorpages.com/BikeNewYork2018/JeffreyWilson2018
Rob Walling
Rob is an actuary from Illinois who loves road cycling. He and two of his children, including a daughter at NYU, have CMT-1A. Rob is actively involved in CMT genetic research at the University of Iowa and with Pharnext clinical trial and looks forward to raising funds and awareness through the ride.
HTTPS://HNF.DONORPAGES.COM/BIKENEWYORK2018/ROBWALLING/