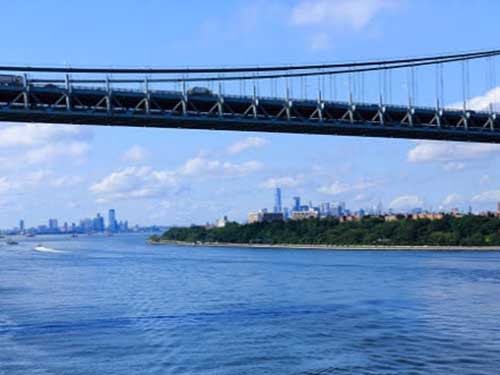 The TD Bank Five Boro Bike Tour will take place on May 6, 2018. HNF has been fortunate to participate in the TD Bank Five Boro Bike Tour as a charity rider for America's largest cycling event. This means more participants riding to increase awareness of Charcot-Marie-Tooth, and thousands more dollars raised to fund research into treatments and a cure.
"We love coming up to NYC and being on Team CMT! It's one of our favorite events. Great energy." – Jeff W, CMT Patient
HNF Riders get VIP treatment, which includes breakfast and lunch as well as priority start, special bike parking at the start, and a Team CMT singlet. The event provides participants the unique and fun experience to bike through all five boroughs—a 40 mile, traffic-free ride for 32,000 cyclists. Starting just north of Battery Park, the tour runs up Manhattan, through Central Park, around a brief loop in the Bronx and down to the Queensboro Bridge passing countless New York City icons on the way.
Nothing is more inspiring than riding in the 42 mile TD Bank Five Boro Bike Tour next to my inspiring and relentless friend and founder of HNF, Allison Moore. Although I ride for her and Team CMT, she would be the one I would want on my team biking through the beautiful boroughs increasing awareness for CMT. GO TEAM CMT!" – Gabby G, Friend
After a ride over the Pulaski bridge passing through Brooklyn, riders enjoy an incredible view from the lower deck of the Verrazano Bridge. Join the HNF Team and help raise funds for CMT research!