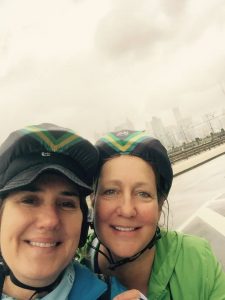 Sign up for TD Five Boro Bike Tour Today!
For the eighth year in a row, HNF will be participating as a Charity Partner in the 2017 TD Bank Five Boro Bike Tour! We are thrilled to again be a part of this extraordinary event where participants bike through all five New York boroughs to help increase awareness and raise dollars to fund Charcot-Marie-Tooth (CMT) research.
Scheduled for May 7, 2017 (always the first Sunday in May), the TD Five Boro Bike Tour is America's largest cycling event. The event provides riders the unique and fun experience of biking along a 40 mile, traffic-free route accompanied by 32,000 other cyclists. The ride begins just north of Battery Park, runs up Manhattan, through Central Park, around a brief loop in the Bronx, and down to the Queensboro Bridge, passing countless New York City icons along the way. After a ride over the Pulaski bridge passing through Brooklyn, riders enjoy an incredible view from the lower deck of the Verrazano Bridge. Bike New York brings in critical research funds to support finding a cure for CMT. Over the years, monies raised from Bike New York has made a significant impact on HNF's mission—we are excited and honored to take part in this event as we continue our quest to find better treatments and cures for CMT and inherited neuropathies.
HNF board member Matt Downing sums up his experience with Bike New York this way:
"2017 will be my tenth Five Boro Bike Tour, and my sixth riding in support of the Hereditary Neuropathy Foundation. Riding in the Tour for a charity partner like HNF is a fantastic experience. You get to ride through the city on traffic free streets, while raising money for a great cause. You even get a preferred starting position, which comes in handy when you're squeezing through the narrow streets of New York with 30,000 other riders. I can't wait! "
Please join HNF and ride with us on May 7, 2017! All HNF riders get VIP treatment at the event: Enjoy complimentary breakfast and lunch, priority start times, special bike parking at the start, and Team CMT swag. Registration is now open. You can sign up here http://hnf.donorpages.com/BikeNewYork2017/