HNF is proud to be a charitable partner for the following three events in 2019. Each event is a Team CMT event. All funds raised will go to HNF's TRIAD program for CMT research.
TD Bank Five Boro Bike Tour – Sunday, May 5th in NYC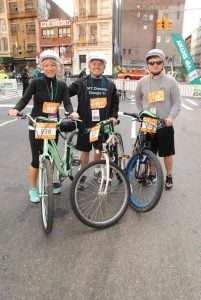 For the ninth year, HNF has been fortunate to participate in the 2019 TD Bank Five Boro Bike Tour as a charity rider for America's largest cycling event. Team CMT riders will cover the challenging 42 miles through the five NY boroughs as they ride to increase awareness of CMT and thousands more dollars raised to fund research into treatments and a cure.
The 42-mile tour begins in Lower Manhattan and heads north through the heart of Central Park, and continues on to Harlem and the Bronx. Riders then return south along the East River on the FDR Drive crossing into Queens and then into Brooklyn. Riders take over the Brooklyn-Queens Expressway before tackling the Verrazano-Narrows Bridge and into the Finish Festival on Staten Island.
2019 Million Dollar Bike Ride – Saturday, June 8th in Philadelphia, PA
HNF will be participating in the Million Dollar Bike Ride (MDBR) for the first time this year. The Penn Medicine Orphan Disease Center (ODC) will host the 6th Annual Million Dollar Bike Ride on Saturday, June 8th to raise money for rare disease research. The MDBR brings over 500 cyclists and volunteers to Penn's campus to ride either 13, 34, or 72 miles starting in the city, and ranging across the Greater Philadelphia region. The MDBR has raised over 8 million dollars for rare disease research. HNF is excited to participate in the MDBR and join other rare disease teams as we raise money to find cures and treatments.
TCS New York City Marathon – Sunday, November 3rd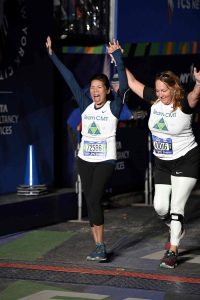 We are thrilled to be headed back to the TCS NYC Marathon for the second year this fall. The annual marathon courses through the five boroughs of New York City. In 2018, the race had the largest field in event history, with more than 52,000 finishers. Team CMT joined the 26.2-mile race through The Big Apple last year and saw HNF's CEO and Founder Allison Moore cross the finish line with friend and HNF Chairman Joy Kaye.
To join Team CMT and HNF to participate at any of these events, please email [email protected].