TCS NYC Marathon Training Begins

It has been almost one month since my TCS NYC Marathon training has begun, a feat that I am determined to complete. Thankfully, my dear friend and Chairman of the HNF board, Joy Andal Kaye will support me throughout the process with unconditional encouragement and tips for training. Most importantly, Joy will stand by my side with an arm on the day of, as we speed walk through Manhattan to ensure I minimize the risks of falls.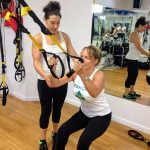 So far the first two weeks have been interesting as I navigate all the equipment at the new gym I recently joined. Gaining strength and endurance will be vital as I build up to the 26.2 mile speed walk in November. It's been many years (mostly my 20s and early 30s) since I've done intense training at a gym.
The past decade has been more challenging for me as my CMT has progressed along with my relentless passion to work hard to cure CMT. This is no excuse, as I know my health should always be my #1 priority.
The past 5 years have been the most exciting time for me personally, even with the heavy heartache and pain they've also brought. I lost my father (who also had CMT) and spent many of the months prior, in a wheelchair from fall-related fractures. Although both physically and emotionally painful, the loss of loved ones and the deterioration of my body are what invigorates me to always plow through and keep my chin up. I'm blessed with an incredibly supportive family that never lets me give up. My sister Courtney joined HNF 6 years ago as our Fundraising Coordinator which was the best thing ever for the organization. She has thrived as a leader and it has shown in all that HNF stands for in supporting patients and therapy development. As a result, in January 2018, Courtney was promoted to Executive Director and thankfully the timing could not be better. Training for the marathon is time-consuming and takes lots of dedication, even more for someone with physical challenges.
I feel so blessed to live in NYC as there are so many options to support me as I build strength. CMT is certainly a challenge, but the aftermath of the surgery from my tumor resections, and the radiation back in the mid 90s, have done a number on my right leg. For example, my right quad is so badly atrophied with extensive damage to tissue and muscle that I can barely lift my leg. My right knee is badly hyperextended and has created my most challenging issue over the past month. That's where the gym comes in; If I can build my right thigh and quad, I can increase balance and functional symmetry. Despite having x-rays of my right knee and hip, there are no bone deformities or serious issues. The only recommendation is to "strengthen my quad so you feel better and stronger." Easy for them to say! It's been over 20 years since my cancer diagnosis, multiple surgeries and extensive radiation. So my training is two-fold, build muscle and walk often to build endurance. Walking with CMT is something we must constantly be mindful of. You actually have to think of each and every single step as it is not a natural movement.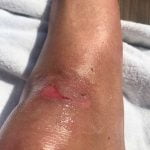 Thankfully my AFO's (leg braces – the Helios) have carried me through for many years and I have Mitch Warner of Ortho Rehab Designs to thank. He will work closely with me to maximize my gate as we get closer to race day. Walking long distances in AFOs can create another challenge causing sores and skin irritation. This was the case for me during a recent long walk in Central Park (another blessing!) ended with my leg braces tearing up my legs after 5 miles. The sores were so bad that I couldn't train for almost 1 week. I didn't realize because of the sensory loss from CMT. I have learned my lesson and triple protect my legs now with leggings, socks and wrapped ace bandages in the more sensitive spots. If you are one of those with CMT that have dealt with open sores due to AFOs or shoes, you'll understand what I am referring to.
I will only vent this one time! From here on in, I will primarily focus on my weekly training and document the progress and any challenges that may arise. To start, week 1 was exhilarating! For the first time in months, maybe years, I was jazzed to take on a new exercise regimen that would help me build up to the big day. It feels so good to be back to weight and resistance training. So here we go…
Month 1: Weight training and three 3 mile walks with one 4-7 mile walks out of 7 days, for  the first four weeks. The first step to getting my groove on! To help reach the milestones of completing a marathon, on April 15th Joy and I will be participating in a half marathon to prime us for the marathon. The training schedule is relatively straightforward. I am behind a week, but will train hard to catch up by moving from a 5 mile walk, the longest to date, to a 7 mile walk on Thursday, February 8th. At the end of the day, my most enjoyable indulgence is the steam room with eucalyptus at the gym.
Speaking of which, it took me two weeks to get the courage to go for a steam. I had to troubleshoot in my mind how I would get from the lockers to the steam room, then to the showers and back to the locker to get dressed. I agonized for the first two weeks. No offense to the Upper East Side of Manhattan, but my GOSH so many in shape and fit naked women walking around without those same concerns. I thought "Should I ask the ladies that clean in the locker rooms to help me?"  But this is NYC, not a spa, a 4 floor hard core facility, which by the way, I do love!