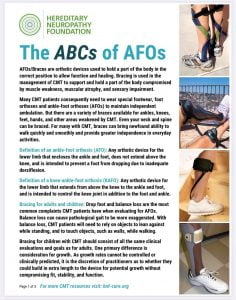 Researching and shopping for AFOs can be incredibly overwhelming, especially for first-timers. What kind of braces should you get? What kinds are available? What are the differences, similarities, pros and cons? Most CMT patients have no idea where to even begin… 
Don't you wish there was an AFO guide and checklist you could bring to your orthotist to ensure you're getting the best care and leg brace options possible? The Hereditary Neuropathy Foundation thought so too!
Last Fall, HNF teamed up with Mitchell Warner, CPO, Ortho Rehab Designs Prosthetics and Orthotics, INC., and a panel of CMT patients to thoughtfully put together a comprehensive 10-page packet to educate and empower our community. Originally launched for our Movement Is Medicine™ Summit AFO workshop, the exclusive PDF has now been made available as a download on our website.
Most recently, HNF had the honor of collaborating with Fillipo Genovese and his team at ACMT-Rete, an Italian nonprofit organization for CMT, to translate the entire guide and checklist from English to Italian for their community. We're very excited to work internationally with other advocacy groups and provide much needed resources to CMT families worldwide!
English Guide: https://www.hnf-cure.org/wp-content/uploads/2020/06/ABCs-of-AFOs.pdf
Italian Guide: https://bit.ly/32PODD0
Please reach out to [email protected] if you would like to translate the ABCs of AFOs guide in your language.