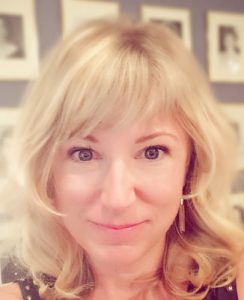 Caregivers play a critical role in helping CMT patients manage the daily struggles and challenges of living with this debilitating disease. They are a significant part of our community and we will be discussing the role of the caregiver at the Summit.
HNF has invited Kerin Reilly, who sits on our Board of Directors, to join us on the panel discussion "The Fearless Caregiver: The Caregiver's Voice Matters and the Role of the Caregiver in Patient-Driven Research." Kerin has a daughter with CMT and we are honored to have her share her experiences with us.
Kerin Reilly is currently the Director of Admissions for The American Academy of Dramatic Arts, New York Campus. She is responsible for the management of the New York Admissions Department. She previously served as Director of Admissions for the Adult Degree Completion program at Mount Saint Mary College. In addition, Kerin was an Adjunct Professor responsible for teaching Public Speaking in both the hybrid online format and traditionally at the Mount Saint Mary College's military satellite campuses which are located at West Point and Stewart Air Force Base.  
She holds a Master's Degree in Business Management and Administration. Kerin joined the HNF Board of Directors in 2014 to build awareness and contribute to advancing research for CMT. Her beautiful, brave daughter, Dakota has CMT. Kerin's intentions are to do everything in her capacity to help her daughter and all those living with CMT. Kerin resides in New York and is married with two children.
HNF: Why did you choose your particular topic for the Summit?
Kerin:
As a mother, there is nothing more important to me than finding a cure for CMT. My daughter Dakota is a brave, kind, beautiful soul. She was diagnosed at the age of eleven and at that time, the focus of our lives became about finding the resources and connections to help Dakota as much as we possibly could.
As all patients and caregivers know, it is difficult to find health care professionals who are aware and educated on this disease and many times, you find yourself educating the individuals that you seek treatment from. It took many years, but we have managed to make connections with a physician, physical therapist, chiropractor, surgeon, and even a weight trainer.
It truly is a team effort to provide Dakota with the services she needs with individuals we trust are educated enough on the effects of CMT to keep her safe from injury.
HNF: What do you hope attendees take away from the Summit?
Kerin:
I hope that attendees of the Summit make valuable connections and gain resources that can substantially help themselves and their families. Simply being in the presence of other caregivers and patients will provide a comfort in sharing similar struggles and providing ideas and information that can grow into a support network for all of us fighting for a cure!
You can connect with Kerin here:
LinkedIn: http://bit.ly/2duOsnO
Facebook: http://bit.ly/2cE9Ipp