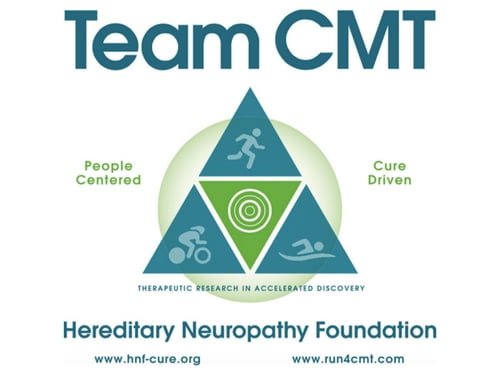 Team CMT is a grassroots community fundraising program founded by Chris Wodke, a CMT athlete who partnered with the Hereditary Neuropathy Foundation (HNF) to raise awareness for Charcot-Marie-Tooth disease. Currently we have 210 athletes in 38 states. We also have members in Australia, Canada, England, Finland, Vietnam, Iran, Scotland, France, Turkey, Poland, Norway and Sweden.
Building awareness about CMT is essential to increasing support, research, and helping to find a cure for the many forms of CMT. The members of Team CMT are at the front lines of raising CMT awareness in local communities around the world.
Be part of an international effort to change the future for those living with CMT! Join us today and register to become a Team CMT member. By joining the team and making a minimum donation of $25, we will send you a Team CMT shirt that you can wear to help build CMT awareness. You can wear your Team CMT shirt to the gym, physical therapy, or athletic events.
Team CMT Members can also share their CMT story by creating a personal fundraising page on our Team CMT donor page. You can also host and represent Team CMT at various events such as walks, bike races, and marathons. Just check out Team CMT founder Chris Wodke's activities and her amazing contributions to generating CMT awareness.
There are so many exciting initiatives and new progress being made for the CMT community thanks to increased global awareness and the groundbreaking recent CMT research developments. Current scientific studies are bringing us closer to understanding and creating the technology needed for accurate disease diagnosis, effective genetic counseling, and targeted therapies.
This summer, become a Team CMT champion! Help us raise CMT awareness and the much needed funds to finally find cures for CMT!