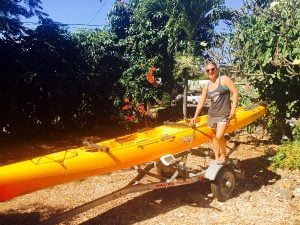 Jennifer Decker is set to embark on the first documented solo circumnavigation of the Big Island, Hawaii by kayak. The journey will take 16 days and course through 300 miles of the roughest waters known in the Pacific Ocean. The Coast Guard and volunteers will be monitoring her travels, and her journey will be tracked by a personal GPS system.
As an experienced nurse, seasoned surfer, hiker, scuba diver, and mountain climber, Jennifer is ready to take this challenge head-on!
And Jennifer has CMT.
Her struggles with falls, sprained ankles, surgeries, loss of hand dexterity, lack of sleep due to pain, and the loss of sensation in her hands and feet due to CMT have not stopped Jennifer from pursuing her dreams:
"My determination has always been stronger than my physical attributes."
She chooses to say she's "living with" CMT. Jennifer believes this mindset allows her to see CMT as a blessing. She is grateful for every day she can experience life on her own terms.
This journey, however, is more than just a personal challenge for Jennifer.
Jennifer recently reached out to HNF to tell us about her journey. She has established a GoFundMe page to help raise awareness and funding for CMT, with all donations going to HNF:
"My goal is to raise $10,000 for the Hereditary Neuropathy Foundation which is dedicated to finding treatments and a cure for those living with CMT and inherited neuropathies."
All of us at HNF are thrilled and honored to help Jennifer achieve her goals. We are incredibly grateful for her dedication to help raise CMT awareness and support our research efforts.
Read more about Jennifer's inspirational journey and please consider making a donation on her GoFundMe page.
Mahalo!
Jennifer Decker: Big Island Circumnavigation For Charcot-Marie-Tooth Awareness from Hereditary Neuropathy Foundation on Vimeo.