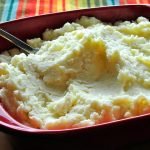 Author:
A Passionate Plate
Serves: 10-12
Ingredients
5 lbs. russet style potatoes, peeled and cut into 2″ chunks
8 oz. cream cheese, softened
1 cup sour cream
salt & pepper (white or black) to taste
4 Tbsp. butter
Instructions
COOK THE POTATOES:
Place the potatoes in a large pot of salted water. Bring to a boil and cook until the potatoes are tender – approximately 25-30 minutes. (The potatoes should be soft and fully cooked and slightly crumbly, but not falling apart). Drain the potatoes and return them to the pot.
MASH THE POTATOES:
Using a potato masher or a hand-held electric mixer, mash the potatoes with the cream cheese and sour cream until well-blended and fluffy.
Season to taste with salt and pepper.
Transfer the potatoes to a lightly buttered 9″ x 13″ casserole dish. If serving immediately, dot with butter and bake at 350 degrees, uncovered, for 20 minutes.
TO MAKE AHEAD AND REHEAT:
At this point, the potatoes can be refrigerated for several days or even frozen. Wrap the dish very well with plastic wrap until ready to use.
Before serving, bring the potatoes to room temperature for 30 minutes. (If frozen, thaw in the refrigerator overnight first).
Dot with butter, then bake, uncovered, for 50 minutes or until heated through.