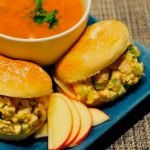 Author:
A Passionate Plate
Serves: 8 sliders
A great way to use up leftover holiday turkey. If hazelnuts are not available, use another nut of your choice, such as almonds, walnuts or pecans.
Ingredients
1 cup diced turkey
⅔ cup diced Honeycrisp Apple
½ cup toasted hazelnuts, coarsely chopped
½ cup diced celery
2 Tbsp. chopped parsley
1 Tbsp. sweet yellow onion, minced
½ cup light mayonnaise
1 Tbsp. apple cider vinegar
1 to 2 tsp. curry powder (depending on your taste)
Salt and pepper
8 slider rolls
Instructions
Combine the turkey, apple, hazelnuts, celery, parsley and onion in a medium bowl. Toss to combine.
In a separate bowl, combine the mayonnaise, cider vinegar and curry powder. Mix well.
Stir the mayonnaise into the turkey mixture and season with salt and pepper to taste.
Serve on slider rolls with mayonnaise, sliced apples and lettuce if desired.