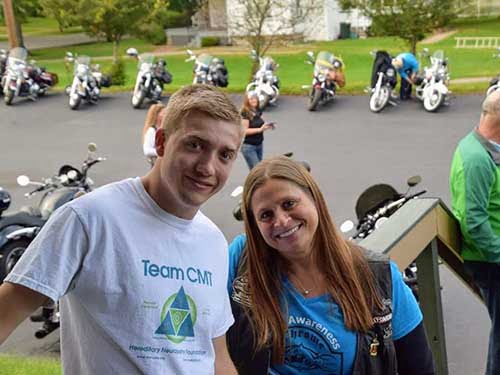 On September 9th, The Rochester Chrome Divas hosted a Scavenger Hunt in the Finger Lakes Region of New York State to raise money for CMT6 research. Mother Nature provided a sunny, cool Fall day for the ride! Ninety-eight participants enjoyed spending the day with Zach Houliares (who has CMT6) and the Divas.
Grown-up "bikers" played duck duck goose, hugged a stranger, and folded laundry for a stranger, all while spreading the word for CMT6. Chrome Divas came in from Xenia, OH, Watertown, NY and Cortland, NY to help support such a worthy cause. Other bike clubs joined the day not only to show the Divas support, but to learn about "Our Man" Zach. Each person had a chance to meet Zach, have their picture taken with him, and see where he worked this past summer.
The day was a great SUCCESS! Everyone returned safely from the hunt and LAUGHING because they had so much fun. Many asked to be alerted about the next event so they can join in again. HNF is happy to report that The Rochester Chrome Divas raised over $11,000 for CMT6 research! Thank you, Divas, and cheers to "Our Man" Zach!
LEARN MORE ABOUT ZACH'S TEAM: WWW.CURECMT.ORG