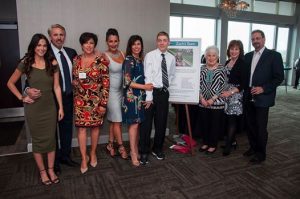 On Thursday April 21, 2016, over 160 Zach supporters gathered for the 1st Casino Night to benefit CMT6! Guests dined on hors d'oeuvres and sipped beverages on the rooftop of the Strathallan Hotel in Rochester, New York. The room was bustling with casino tables for guests to place their wagers for a chance to win one of the enormous raffle baskets.
The star of the evening was Zach Houliares, who mingled with guests, and graciously thanked them for supporting the much needed awareness and research funds for CMT6.
We at HNF would like to thank all the sponsors and guests that made this night so memorable and raised over $17,000 for CMT6!