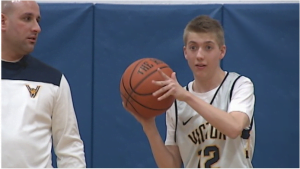 Throughout my life many different people have impacted my views on certain things, whether it be how I speak, how I dress, what I eat or even who I'm friends with. I now consider my viewpoint on life much more mature and sophisticated than it was 10 years ago or even 5 years ago. I think more logically than ever before and I am much wiser now because of my mistakes and because of my success. Recently in my life I met another person who greatly impacted my life. Not only has he greatly changed my viewpoint on life but shockingly he is also younger than I am and we haven't known each other very long. His name is Zach Houliares, he is fifteen years old and he has recently been diagnosed with Charcot-Marie-Tooth, which is a genetic disease that affects his nerves and muscles making walking very difficult. That alone is a struggle, but Zach was also born visually impaired and is legally blind. You would think he is held back in life from doing what most kids in high school do, but truth is he can just about do it all. I'll never forget the first time I met Zach. He stood up, gave me a firm handshake, saying, "Hello, Gino, nice to meet you," with a big smile on his face. I couldn't help but give a huge smile in return because it was contagious and I never would have guessed Zach was visually impaired or had difficulty walking. I was informed hours later by his older sister about his disease and some of the obstacles he had to overcome and I was truly shocked. It amazed me that someone could go through with that every day of their life and can still be so happy and succeed as much as he has. Zach has close friends, goes to school, plays video games, participates in sports, and helps coach the basketball team at his high school and he succeeds in all of them. Not only is he a joy to be around, but also because of his attitude towards life and his accomplishments, he makes me want to be a better person and appreciate how blessed and fortunate I am.
One way I changed after meeting Zach was simply by wanting to be a nicer person to every person I come across throughout my life because you never know if someone is hiding his or her emotions or hiding a disability. You may also never know how sensitive one person may be towards a joke or a simple action. I didn't consider myself a mean person before meeting Zach, but my ambition to go out of my way more often in order to help someone or being more polite has increased. I feel better about myself and feel that I can brighten up the outlook of others by just being a good person, as Zach has done for me. I've heard a quote before that says, "God gives his toughest battles to his strongest soldiers", and Zach is proof of that statement. He is someone who faces struggles every day that most people in the world don't have to and he handles it with poise and positivity every day like it's no challenge at all. I have yet to see Zach upset or discouraged and when I think about it I can't help but be inspired by him.
Zach can be shy at times and perhaps a little hesitant but his true inner strength came out recently for people all across the country to hear about. Zach manages his high school basketball team; he lives the sport through the players by helping them and observing from courtside. You would think someone who is legally blind has a tough time making a basket, but Zach has conquered even that feat during a live action game. Recently during the Victor Blue Devils last home game the head coach had Zach suit up for a chance to finally take the court and play, and Zach was ready. Number twelve in white took the court with confidence. With under a minute left on the clock, one of his teammates gave him a pass inside the arc. He caught the ball, stepped, shot, and drained it as the crowd cheered for Zach. Victor went on to win and Zach was rushed by all his teammates as the final buzzer went off to end the game. The story blew up instantly and was spread across YouTube, Twitter, Facebook, Rochester News, and many other sources. That one shot can describe a lot about Zach's character. He doesn't show fear; he takes chances and makes the most out of the opportunities given to him, which is how everyone should approach life.
For the people who didn't know Zach before his story reached the news, hopefully they can appreciate now how valuable life is even more so than ever before. It's quick, unpredictable, and everyone receives an opportunity at some point in their lives but it's about what you do during those moments. I don't think I can do what Zach has done which is why I respect what he's done even more. He's younger than me, smaller than me but yet spiritually stronger than me and that alone can drive a person a long way. I wish everyone can meet Zach and hear his story because I believe it can change their perspective on life like how it changed mine. I promise to myself to be more optimistic, more polite, and more helpful to others. My mindset has been different ever since that first night meeting Zach and I will do my best to do for others what he has for me. He alone has changed my life and my newest goal is to be like Zach; I am now a better person.