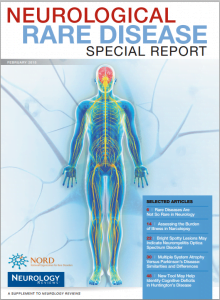 HNF has a new initiative aimed at identifying expert Health Care Providers (HCP) for the CMT community. We are creating an innovative HCP Directory which provides these clinicians with additional tools to care for their patients. We will provide them with the best standard of practice guidelines, as well as verifying them as a provider to ensure quality diagnosis and treatment to the CMT Community.
Once endorsed by HNF, we will provide these HCP's with a special logo to add to their website, a link to take a free continuing medical education course and a special Essential Guide Booklet with all they need to know about CMT. A secondary goal of creating the HCP Directory is to encourage their patients to join Global Registry for Inherited Neuropathies (GRIN) so they can collaborate in the research process by accelerating therapy development for the CMT community.
To launch this exciting initiative, HNF recently participated in the Neurological Rare Disease Special Report that was published as a supplement to Neurology Reviews and now available as a digital version under the "Education" tab.
HNF developed a two-paged advertorial describing the diagnosis and treatment for CMT (p. 8-9). The Neurological Rare Disease Special Report was mailed to over 24,000 clinicians, including 20,000 neurologists and 4,000 primary care physicians in the U.S. In addition, this special report will also be distributed from the Neurology Reviews exhibit booth at over 15 major industry conferences. Our goal is to continue to raise disease awareness, inform clinicians of how to recognize CMT, accurately diagnose and finally inform them of future potential treatment options. We will continue to highlight CMT through similar mechanisms and peer reviewed publications.