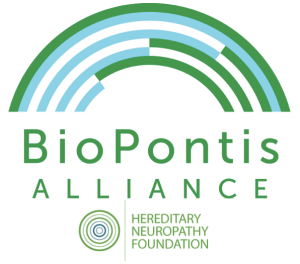 Hereditary Neuropathy Foundation (HNF) is pleased to announce the creation of a joint venture to develop drug candidates for the treatment of Charcot-MarieTooth (CMT) Disease with BioPontis Alliance for Rare Disease.  HNF has supported basic research into the cause of CMT and early translational research to develop critical tools for drug development, with the goal that research would lead quickly to treatment. Progress can become stalled because drug development requires a complex array of more engineering like technical capabilities, capabilities not available to patients and academic researchers alike. Also new attention must be paid to patenting and aligning to the interest/requirements of the drug industry players who will be needed to bring treatments to patients.
To ensure success of potential candidates that are ready to enter clinical trials—not at the earlier stage where potential treatments are first being developed and tested in cells or animal models multiple steps need to be taken—BioPontis Rare Disease Alliance can provide the scientific, business and patenting structure to help bridge to those pharmaceutical companies.
In the Joint Venture, BioPontis Alliance will manage the project's scientific execution, regulatory strategy, patenting and business partnering. HNF will continue to manage the other important factors that support the drug discovery process, such as basic and early translational research, build and maintain the Global Registry for Inherited Neuropathies and conduct market research and clinical outcome measure research.