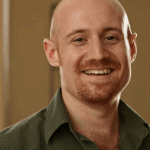 Joe Torello is not an easy man to keep up with. The 31 year old actor, singer and dancer has performed in 47 of the 50 United States.  Most recently he could be found in New York.  That is, when he wasn't in California or Connecticut. Fresh off his 425th performance in "The Music Man," Joe who dances and sings bass in its barber shop quartet, is training to run his first half-marathon.  In a few weeks, Joe is heading to Philadelphia.  He will join the cast of 'The Music Man" during its run at the Walnut Theatre from November 6, 2012 until January 6, 2013.  It is in Philly, on the morning of Sunday, November 18 that Joe intends to add "runner" to his list of accomplishments.  Following the half-marathon, Joe plans to perform in two shows that same day.
While running the Philly Half-Marathon, Joe will be raising funds for the Hereditary Neuropathy Foundation (HNF). So far, he has raised $ 1105.00 through private donations and hopes to gain corporate sponsors as well.
In 2001, Joe was invited to join his friend Kim on her runs "even if we walk it together," she offered.  Years later, Kim suggested Joe try for a half-marathon.  He began by walking on a treadmill, set at an incline, while he held on. "In time, it became easier and I started running on the treadmill," his excitement evident in his smooth voice.  "I never thought I could do it. I find it very freeing, especially when I am outside." Joe explained how he would alternate running and walking and with amazement said "a few weeks later I'm thinking, okay you're running the whole thing!" He took a three month beginner running plan and stretched it into six months to accommodate for his Charcot-Marie-Tooth (CMT) symptoms.
"I have difficulty mostly with my feet and hands, and it is most noticeable in the cold." Joe was diagnosed at age 12 following difficulty flexing his feet as a tap dancer.  As far as he knows, he is the only person in his family with CMT.
There are times Joe feels CMT has impacted an audition. "I can see people behind the audition table staring at my feet as I walk in.  Some jump to the conclusion that I can't dance because I have a funny walk, which isn't the case at all."  Most likely dancing has been beneficial to keeping his symptoms at bay.  "While others tell me they never noticed anything different about my walk" he laughingly admits, "when I'm moving toward my spot for the audition, I do repeat to myself: don't trip, don't trip."  Joe tries to keep moving.   "I swim and lift weights.  And I walk," he states, "even on the days I run and my thighs are screaming as I walk up and down stairs, I still go for a walk after.  I think it is important to get the body used to continuing." Joe's velvety voice needs to be used as well.  "Nobody is really writing characters for a bass voice now.  There are a lot of tenors but not a lot of bass.  Fortunately, I never get sick of playing the parts I've had," which include voice overs. "But," he admits, "I would love to go into recording." To that end, Joe has written a song, the proceeds of which, once recorded, he will donate to HNF.   "We have to keep fighting the good fight" [against CMT], he offers.