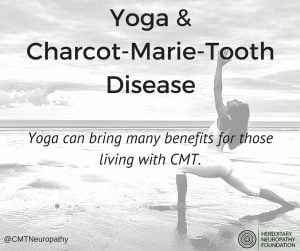 From "hot yoga" to paddleboard yoga, mantra chanting to meditation, the ancient spiritual practice of yoga has exploded into a wide range of styles and disciplines in Western culture. It's hard not to pass by a yoga studio in your town, or hear about the latest celebrity to take up the popular practice.
Why are so many rolling out their yoga mats for their daily dose of Om?
While many practice yoga as a workout, yoga is really a work-IN.
Yoga brings the body, mind, and spirit into balance, harmony, and union. Through various poses, breathing exercise, meditative practice, and self-study, yoga facilitates self-awareness and greater consciousness of the world around us.
"Yoga is the journey of the self, through the self, to the self."
– The Bhagavad Gita
With the daily challenges life can bring, we are all susceptible to physical and emotional stress, illness, and injury.
Charcot-Marie-Tooth patients not only face those challenges, but the additional struggles of living with a progressive neuropathy.
Symptoms related to CMT can put an immense amount of stress on the body and mind.  Chronic stress can impair the immune system. Weakened muscles can increase the chance of falls and fractures. Difficulty coping with the progressive disease can increase the risk of depression and other psychological problems.
A consistent yoga practice can help reduce stress, bringing harmony and balance to the body, mind, and spirit.
Here are several benefits CMT patients can experience with a yoga practice:
Physical Benefits
Yoga can increase and improve:
Circulation
Flexibility
Balance
Coordination
Strength
Emotional Benefits
Yoga can help:
Reduce stress.
Give an overall sense of wellbeing.
Increase mental clarity and focus.
Increase confidence and self-esteem.
Introducing yoga into your daily routine will bring many benefits for those living with CMT. There are no prerequisites for practicing yoga. You are not required to be flexible, or stand on one foot with the other one over your head!
All you have to do is show up:)
There are many different styles, classes, and teachers in the yoga community. Spend time visiting a few local studios and interviewing teachers. The right teacher will help modify poses and provide additional props and tools to assist your practice.
Be sure to discuss any physical program with your doctor before you engage in a yoga practice.
Namasté!