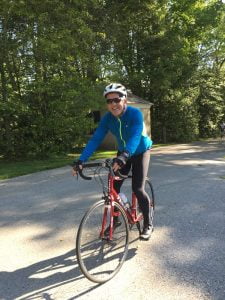 Q: Tell us about yourself: do you live? Favorite hobbies?
A: I'm 53 years old and live in Newark, Delaware with my wonderful wife Nancy. We have three grown sons, none of which show any signs of CMT. I enjoy cycling and ride every chance I get. I love to play golf, but difficulties with my balance have made it a little more challenging. I'm an avid sports enthusiast and a diehard Philadelphia Eagles fan. I love craft beers and brewing my own beer is a passion of mine.
Q: When were you diagnosed with CMT? Briefly explain your journey getting diagnosed with CMT.
A: I was always very active and played football and lacrosse in high school and college. When I was in my mid 30's, I noticed that my feet were getting numb — first my toes and then the balls of my feet.
I really didn't think anything of it until I mentioned to my father that it felt like I was wearing socks all the time. He said his felt the same way. He never complained about it, but I noticed his feet "slapped" the ground when he walked.
I finally went to a neurologist when I was 43 and was given an EMG. The neurologist also ordered a spinal tap to rule out MS and I was eventually diagnosed with Peripheral Neuropathy. The doctor said I could get a blood test to determine what type of PN I had. I declined because the test was very expensive. My feet slapped the ground and my balance wasn't great, but it didn't really slow me down.
Three years ago I got a severe case of the flu and was out of commission for about three weeks. After I recovered, I decided to go out for a run to get in shape for our church's annual 5K. I got about 100 yards from the house and it felt as though I had forgotten how to run. I had no strength in my ankles and my balance was worse than ever. Later that year, I finally had a blood test done and was diagnosed with CMT1B.
Q: Do other members of your family have CMT?
A: My father had CMT, but was never tested. My sister also has CMT and is getting a blood test in March.
Q: Why did you choose to participate in the TD Bank Five Boro Bike Tour?
A: I'm riding because I love to cycle and it's a great opportunity to raise awareness and money for CMT. Only my close friends know that I have CMT or even what is. When I post my donor page on Facebook a lot more people will be made aware of CMT.
Q: What challenges will you face, if any, participating in the TD Bank Five Boro Bike Tour?
A: My biggest challenge is balance and with all the other riders, I get a little nervous.
Q: What are your plans on training for the TD Bank Five Boro Bike Tour?
A: My plans are to ride every chance I get weather permitting. I also plan to keep exercising and stretching.
A good friend of mine, Ian Croft, and I ride every chance we get. We just finished planning out our rides for 2017. We will begin with the Icicle Century ride in March. The TD Bank Five Boro Bike Tour will be our second major ride of the year.
Q: How has CMT changed your life?
A: Although it's slowed my pace down when I walk and affected my balance, it's also affected me in a positive way. I participated in the CMT Summit last October and was able to meet other patients and caregivers from all over the world. Their positive attitudes and courageous struggles have given me such inspiration.
Q: What advice can you give to others that are affected with CMT?
A: Keep exercising and stretching your legs. I think that pushing myself especially when I ride has improved my muscles. I know that we've all probably heard or read that you shouldn't exercise to exhaustion, but as an athlete I don't know how else to exercise. Always push yourself to do more than you think you can.
Q: What's a favorite quote of that you think of often?
A: My favorite quote actually comes from a song, My Body, by Young the Giant: "My body tells me no, but I won't quit cuz I want more, cuz I want more." The song plays over and over in my head when I ride, especially heading up a steep hill.
Q: Anything else you would like to share with us?
A: I feel truly blessed. My CMT developed later in life and it is progressing very slowly. Although my neurologist says that I won't need braces or a cane until my mid 60's (about 10 years from now), I'm out to prove her wrong.
Click here to donate to Dave as he conquers the TD Bank Five Boro Bike Tour!