Impact that matters
Repurposing Drugs for CMT
Rarebase is a public benefit biotech company focused on accelerating therapy development for rare diseases with its tech-enabled drug discovery platform called "Function."
To advance therapy development for most types of CMT, HNF launched a drug repurposing program in 2022 to rapidly deliver treatments to patients.
Rarebase's Function platform has enabled us to test approximately 4000 small molecules to determine changes in gene expression for CMT. The genetic screens have produced drug candidates for 10 subtypes of CMT.
Milestones
2022 Phase I: Discovery (identified hits) – Completed
2022-23 Phase II: Develop CRISPR assays for CMT subtypes to test the top candidates – In progress
2023- 2024 Phase III: Conduct Clinical Trials on optimal candidates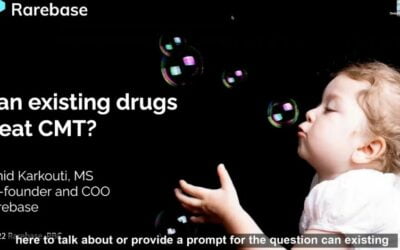 HNF has partnered with Rarebase, a public benefit precision medicine company that has screened a large library of FDA approved small molecules to identify candidates for various types of CMT. Their tech-enabled drug discovery platform is called Function™. There are many published discoveries on the genetic cause of many types of CMT, including an understanding of the basic mechanism of disease and potential targets for FDA-approved drug repurposing. It is this understanding that allows HNF and Rarebase to target the genetic root cause of CMT.