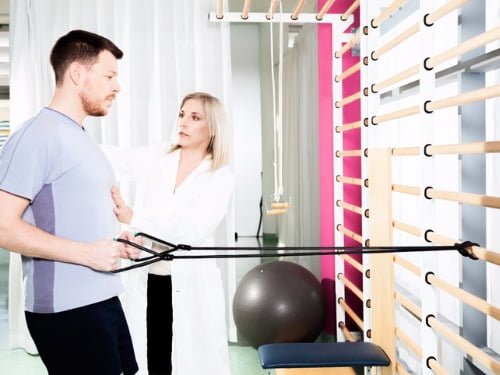 Dr. Sharon DeMuth, Adjunct Associate Professor of Clinical Physical Therapy at the University of Southern California, Los Angeles has been kind enough to discuss parental concerns regarding physical therapy for children with Charcot-Marie-Tooth Disease.
Parent Question: Can you help me understand the difference between Physical Therapy (PT) and Occupational Therapy (OT)?
Dr. DM:  Physical Therapy (PT) refers to activities such as walking, running, strength, climbing, work, attending school, climbing on monkey bars.  Think big/large such as jumping, skipping, playground play. Occupational Therapy (OT) traditionally focuses on activities of daily living such as getting dressed, washing, combing hair – these are the "occupations"- which are  particularly true with Charcot-Marie-Tooth as it can affect both the arms and legs.  If someone needs help with buttons or getting clothing on or off, OT is required.  Needing help going up and down a slide requires PT.
In taking care of children, depending on age, there can be an overlap of what OT and PT can do.  For example: before you can do therapy on the feet, you have to remove shoes and sometimes braces. A therapist should help the child learn to do that.  There should be collaboration among all therapists working with the child.
Parent:  How can I determine if my child needs OT or PT?
Dr. DM:  If we know a child has a chronic disease like CMT, it is important to be aware of any changes.  But kids especially, do not need to spend their lives tied up with appointments, whether it is OT, PT or various lessons.  Kids grow and change rapidly so you should develop a strategy of checking in with their doctor.  If their symptoms appear stable then I think it's okay to say "I have a routine and it's working. "  You want to be able to do preventative care such as making sure the child is sitting on a proper size chair with feet flat on the floor at home and school.  You have to be aware if, while seated, the child's fingers curled.  That will cause loss of ability.  Once you have an understanding of how the disease progresses, you will be better able to determine if therapy is necessary at any point.  If you aren't sure, you can always check in with the doctor and ask for a referral to compare to a baseline that has already been taken.
Parent:  What do I look for as a course of treatment for a growing child with a degenerative disease?
Dr. DM:  Pick the most critical issues you see now.  Treatment can and should change from time to time.  Be aware that because kids have access to therapists in different places i.e. school as well as private.  There may need to be coordination among the therapists.
Parent:  How do I "sell" my kid on participating in therapy?
Dr. DM:  It is very important to find professionals who deal with kids on a regular basis.  Then utilize their relationship with your child.  Take yourself out of the picture of being the therapy enforcer.  We all know that kids are more willing to listen to adults other than their parents. The therapist will be able to work with your child to take responsibility for his own therapy.  Another step is to figure out what it is your child really wants to do.  Is it cycling, swimming, cooking, dancing?   It can be an enormous motivator to say "the more you maintain your strength the more you can participate [in this activity].  Or, by using a specific therapeutic device you can keep enjoying this activity.  You have to meet your child where they are.  Point out capabilities they do have.  Tell them "you have the time and energy to do all the things you want to do as well as those you have to."  Encourage your child to be his own advocate.  As soon as kids become their own advocates the stronger they will be.
Parent:  What about when my child seems to be having a lot of emotional difficulty with therapy?
Dr. DM:  Think about why there is a problem.  What has changed? What else is worrying them? What is stopping them from being present to help themselves in the moment?  Did someone make a remark at a party? Or was your child left out? Role playing is a great way to empower a child.  Ask questions: What will you say when someone asks why you wear braces? Why you need a dictation device?
Also, look to the therapist to change the mood of the day.
Parent:  There are so many suggestions for therapies: massage, water, heat.  How do I find out the benefits?
Dr. DM: You can do research.  Go to www.nih.gov to read about clinical trials.  For aquatic therapy you can go to the American Physical Therapy Association website www.apta.org  as a consumer and ask questions.  Ask your therapist to explain different therapies and to suggest sources to read about more options.  Remember, if you are dealing with someone who is reluctant to discuss treatments or treatment options, you can look for someone else.  There should always be a two-way conversation between patient (parent) and therapist.
A local CMT group might provide resources.  There is also a magazine "Exceptional Parent" www.eparent.com which you might find helpful.
Parent:  How do I know if it's okay to take a break from therapy?
Dr. DM:  All of us have to recognize breaks from time to time.  We need it to mentally recharge.  Parents need the break from their child's therapy schedule as much as the kids do. If you have the opportunity to do something else there is no need to feel guilty about it.    It might be helpful to know research shows intense, short bursts of therapy might be more effective than going three times a week for years.
Take a break and keep an eye on your child.  If there is a period of rapid growth then intervention might be indicated.  If your child appears stable, is not regressing, take it easy for a while.  You can always revisit therapy if a problem surfaces or if your child experiences a growth spurt.