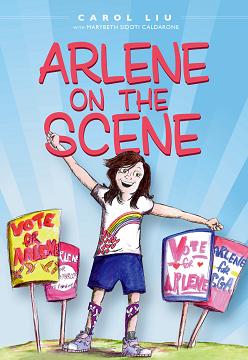 Are you ready for the sequel?
Arlene is!
Coming in March 2013, the sequel to parent and teacher favorite, Arlene On the Scene will be on the shelves!
Apparently, she has more to say.
Arlene, Rebel Queen continues the story of young Arlene navigating the rocky landscape of elementary school in her new leg braces. She's growing up with Charcot-Marie-Tooth and trying to make sense of it all.  Rebel Queen incorporates even more rich educational content while hitting on the relevant social issues of fifth grade: ever-changing friendships, burgeoning independence, and the beginning of adolescent rebellion.  Arlene and her friends embark on a campaign to reduce their school's carbon footprint, relying on lessons from history's greatest social movements, but they have trouble finding the right balance between taking action and getting in a lot of trouble.  Think "The Lorax" meets "Occupy Wall Street!"
We'll let you know as soon as the book is available! Arlene On the Scene is now in its second printing, and we continue to offer free school visits nationwide. Be sure to contact us if you're interested in a school visit within your community.