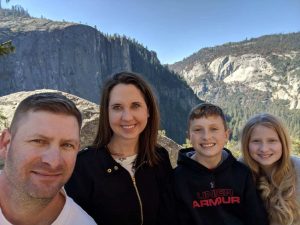 Q: CAN YOU TELL US A LITTLE ABOUT YOURSELVES? 
We live in Lino Lakes, Minnesota. Our family includes Luke, Robin, Landon (13), Alana (11) and our dogs Mylie and Citori. Luke is a project manager and Robin is a radiologic technologist. 
Q: WHO IN YOUR FAMILY HAS GDAP1 (CMT4)? WHEN WERE THEY FIRST DIAGNOSED? WHAT SYMPTOMS DID YOU FIRST NOTICE? 
Alana has GDAP1 (CMT4). We started noticing symptoms around age 3 with frequent trips and falls. It was also apparent that keeping up with her peers was challenging. She's been sporting AFOs since the young age of 3. 
Q: HOW LONG DID IT TAKE TO BE DIAGNOSED? 
Alana started showing symptoms at age 3. We were given a diagnosis of CMT when she was 5, and then we received a genetic diagnosis of GDAP1 (CMT4) shortly after her 9th birthday.
Q: WHO DIAGNOSED HER? (TYPE OF DOCTOR) 
Neuromuscular Neurologist. 
Q: HAD YOU EVER HEARD OF CMT BEFORE THIS? 
Never. 
Q: WHAT DID YOUR DOCTOR TELL YOU TO EXPECT? WHAT ADVICE/ RESOURCES DID THEY PROVIDE? 
The doctor informed us that GDAP1 (CMT4) is a genetic degenerative disease and it's considered moderate to severe on the spectrum. We were given a few websites to check out and referred to the MDA. 
Q: HOW DID YOU FIRST LEARN OF HNF? 
Once we learned that Alana had GDAP1 (CMT4), we searched the internet and joined every Facebook support group we could find relating to CMT. We learned of HNF and their commitment to support a cure for CMT. In September we learned of the GDAP1 (CMT4) gene therapy project through the online newsletter. 
Q: WHAT ARE SOME OF THE BIGGEST STRUGGLES FOR YOUR DAUGHTER? 
The list is endless, but some of the most difficult moments in our lives are shoe shopping, trips and falls and the ask of "Dad/Mom, why can't I be like the other girls and just blend in?" We always try to refer to the movie Wonder and tell her, "it's hard to blend in when you were born to stand out." 
Q: HOW DOES CMT AFFECT YOUR FAMILY? 
CMT affects us daily, as we always try to plan our family activities with Alana's abilities in mind. We have constant battles with AFOs, walking, falling, muscle fatigue, and emotional stress due to CMT and middle school. Multiple surgeries, numerous doctor appointments and weekly PT appointments have made us a stronger and closer family. 
Q: WHAT ARE YOUR HOPES FOR THE FUTURE? 
Our hopes and prayers for the future include: • Alana to walk without braces • No progression of her symptoms • A cure for all types of CMT and especially GDAP1 
DONATE: weblink.donorperfect.com/GDAP1