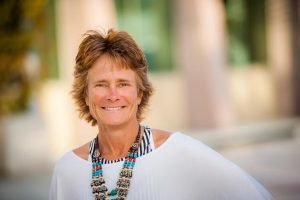 Kim Goodsell is the patient of the future.
She is the expert. The maker. The collaborator.
In the years prior to her CMT diagnosis, Kim discovered she had another genetic disorder. She is also has arrhythmogenic right ventricular cardiomyopathy (ARVC), an inherited heart disorder.
Advocating for her own health, Kim was able to harness the power of genetic information to devise a treatment plan that not only reduced, but reversed much of her disability with CMT.
Let's learn more about her journey in her own words:
It's been over stated for sure, but my do-it-yourself diagnosis of the confounding continuum of rare diseases I present: CMT – a disabling nerve disorder and ARVC – a rare life-threatening heart condition, has been said to mark an important watershed in medicine.
Dr. Eric Topol, one of the world's foremost physicians and medical visionary, publicly characterizes me as "The Patient of the Future." I am deeply committed to exploiting my health odyssey to help catalyze medicine's "Gutenberg moment" and the rise of the Patient of the Future: the Expert, the Maker, the Collaborator.
A UCSD college dropout, I earned an honorary Doctor of Medicine degree, tuition free, from the infamous Google University of Medicine. My googled research has been accepted for publication in the peer reviewed Journal of Cardiovascular Electrophysiology. With great humility, I have found myself at center stage of the digital/genomic revolution in medicine, participating with its vanguards in the co-production of medical intelligence.
Harnessing the power of genetic information, I devised a successful treatment plan that not only attenuated, but reversed much of my disability. The success of my treatment strategy is dismissed as anecdotal. I actively advocate for the scientific legitimization and the embrace of anecdotal evidence.
At the epicenter of the medical community's debate on the dangers and advantages of giving power to the people to direct and take control of their healthcare, I co-star with Angelina Jolie in the Medical Blockbuster Book Of The Year: "The Patient Will See You Now – The Future of Medicine is in Your Hands."
Defying the medical profession's expectations of today's "google and go" patient, I have won international acclaim and high praise as a "unique", "one-of-a-kind", and "extraordinary" patient.
I reject this characterization. It's socially disempowering, concealing an implicit suggestion that I am an outlier and will continue to be. In my community, the rare disease community, greatness is commonplace.
It's the people living with rare disease, chronic disease, and disability that are pushing the edges, driving research, and health innovation from the bottom up. This is where you see the future of healthcare.
Greatness is not some rare DNA strand. We are ordinary people, hackers, artists, and activists. We are creating a future of #HealthMadeByUs. My husband, CB, and I are members of a growing alliance of DIY #HealthMakers. We have spent the better part of our 35 years together roving through remote wildness perfecting the art of movement, engaged in what some might consider extreme endurance activities.
Today we are employing our art to restoring meaningful mobility to our vulnerable disabled community who are disproportionally poor. We are makers of ROVA, an award winning walker and founders of ROVA RealTime, a young California Benefit Corporation coming of age with the attitude that good design is a human right.
HNF: Why did you choose your particular topic for the Summit?
Kim:
I am deeply committed to raising the patient expectations in both the patient and medical community. We, as patients, have excepted/expected things to be done "to" us, or "for" us, and not "with" us.
This attitude has been imposed through many millenniums of a paternal patient/doctor relationship. Ubiquitous connectivity, the online democratization of information, social media, the fury of hyper-innovative digital technology, and consumer genomic sequencing are driving a radical shift in the power and organizational structure of medicine.
The empowered patient is precipitating the most profound revolution in the history of healthcare and it's about engaging human potential. This is truly a Renaissance in healthcare. The only obstacle is piercing the barrier of disbelief, that the patient is not capable of being the "expert", the "maker", the "collaborator".
HNF: How has CMT affected your life?
Kim:
It has unleashed an element of genius and helped me find my greatness.
HNF: What do you hope attendees take away from the Summit?
Kim:
I'd like leave you with a quote:
"Somehow we've come to believe that greatness is a gift reserved for a chosen few … for prodigies … for superstars and the rest of us can only stand by watching. You can forget that! Greatness is not some rare DNA strand … it's not some precious thing. Greatness is no more unique to us than breathing. We're all capable of it … all of us!" Nike – The Jogger
We can't wait to hear more about her journey and what it takes to become a patient of the future!
You can watch Kim's video autobiography ROVA REAL WARS: Episode 1 – Remembering the Future – YouTube  – Part Alice in Wonderland, part Star Wars, part Monty Python, part Looney Tunes, part music video, 100% inspirational medical epic, 100% DIY.
You can connect with Kim and see more of her work here ->
Email: [email protected]
YouTube – ROVA REAL WARS Force For Health
Vimeo – ROVA REAL WARS Force For Health
Register today cmtsummit.org