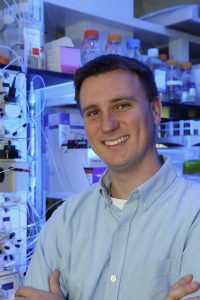 Dr. Steven J. Gray is an Assistant Professor in the Dept. of Ophthalmology, U. of N. Carolina at Chapel Hill. He is also an investigator in the UNC Gene Therapy Center and Carolina Institute for Developmental Disabilities. Dr. Gray was previously a Post Doc at UNC and before that had undertaken a PhD in Molecular Biology, at Vanderbilt University.
His core expertise is in AAV gene therapy vector engineering, followed by optimizing approaches to deliver a gene to the nervous system or eye. His major focus is in AAV vector development, creating vectors tailored to serve specific clinical and research applications involving the nervous system. These include the development of novel AAV capsids amenable to widespread CNS gene transfer or specialized ocular gene transfer.
As AAV-based platform gene transfer technologies have been developed to achieve global, efficient, and in some cases cell-type specific CNS gene delivery, his research focus has also included preclinical studies to apply these reagents toward the development of treatments for neurological diseases. Currently, these include preclinical studies for Rett Syndrome, Giant Axonal Neuropathy (GAN), Tay-Sachs, Krabbe, AGU, and Batten Disease, and have expanded into human clinical studies to test a gene therapy approach for GAN. He has published over 40 peer reviewed papers and has 3 pending patents. His research is funded by NIH and other research foundations.