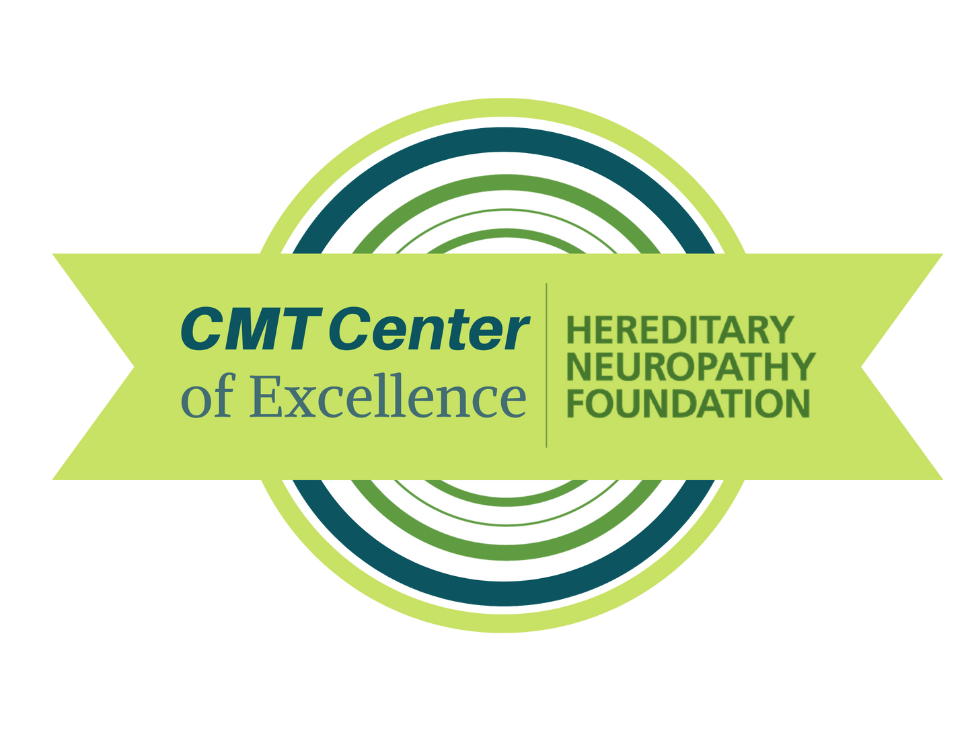 CMT Centers of Excellence
The Hereditary Neuropathy Foundation (HNF) announces its national network designating medical Centers of Excellence (COE) for the hereditary neuropathy patient community.
The designated COEs demonstrate strengths in providing excellence in clinical care and research and will collaborate with HNF to expand their role as CMT/IN patient community hubs for clinical care, community engagement, research, and training/education.
HNF strongly believes CMT patient care and prognosis could be significantly improved if health care practitioners (HCPs) could demonstrate and enhance their proficiency in managing CMT patient care.
Science and medical care are critical for helping our patient community have access to the best options for maintaining function and mobility.
There are wonderful CMT experts at our CMT Centers of Excellence, a hub for clinical care, community engagement, and innovative research. The CMT experts span resources from treating pain, offering corrective foot and hand surgical procedures, educating patients on the many options available for AFO's (leg braces), information on genetic testing, PT, OT, and what research or clinical trials may be available to patients.
HNF has an application process with set terms for becoming a Center. We expect our partners to provide excellent patient care and to host a Patient-Focused Summit or CMT-Connect Webinar. If the site is a research Center, the opportunity to receive funding from us for pre-clinical or clinical research, including participating as a clinical trial site for our industry partners. Some of our lead sites have members that sit on the TRIAD Council or GRIN Advisory Council.
If you would like to become an HNF Center of Excellence, apply below.
Are you a Healthcare Provider?
Enroll in our Healthcare Provider Directory!
The Healthcare Provider (HCP) Directory lists hundreds of CMT specialists and is organized by geographic region and specialty. Our goal is to offer people with hereditary neuropathies a resource where they can find medical specialists with unique expertise and familiarity in caring for people with hereditary neuropathies. Some of our providers offer virtual visits through telemedicine.
Barrow Neurological Institute
240 W. Thomas Rd. Suite 400
Phoenix, AZ 85013
602.406.6262 (O)
602.406.2565 (F)
Contact:
Coordinator: Aide Raya
602.406.8144 (O)
Arkansas Children's Hospital *Pediatric Center of Excellence
1 Children's Way
Little Rock, AR 72202-3591
Contact
Dr. Aravindhan Veerapandiyan
Assistant Professor of Pediatric Neurology
Director Comprehensive Neuromuscular Program
Email: [email protected]
Primary Care Appointments:
501-364-1850
Specialty Care Appointments:
501-819-3520
Children's Hospital Colorado
*Pediatric Center of Excellence
13123 E 16th Ave,
Aurora, CO 80045
Contact
Hattie Foster: 720-777-5439
Clinic Schedulers: 720-777-2806
Hospital for Special Care
Charles H. Kaman Neuromuscular Center
2150 Corbin Avenue
New Britain, CT 06053
Contact:
Angel Preece, RN
Phone: 860-612-6305
Fax: 860-612-6304
Email: [email protected]
Cedars-Sinai Medical Center
127 S. San Vicente Blvd.
Advanced Health Sciences Pavilion, A6600
Los Angeles, CA 90048
Contact:
Tami Kendra
CMT Clinic line: 310-423-4268
Email: [email protected]
Stanford Neuroscience Health Center Neuromuscular Clinic
213 Quarry Road, 1st Floor
Palo Alto, CA 94304
Contact:
Dr. Robert Fisher or Dr. John Day
Phone: 650-723-6469
Email: [email protected]
UCLA Department of Neurology
300 Medical Plaza, Suite B200
Los Angeles, CA 90095
Contact:
Dr. Anasheh Halabi
Telephone: 310-794-1195 (note: request to be scheduled with Dr. Halabi)
Fax: 310-794-7491
Ann and Robert H. Lurie Children's Hospital of Chicago *Pediatric Center of Excellence
225 East Chicago Avenue
Chicago, IL 60611
Contact:
Dr. Vamshi Rao
Phone: Call 1-800-KIDS-DOC for an appointment.
If there is already a diagnosis of CMT, call 312-227-4471
Rush University
600 S. Paulina Street
Chicago, IL 60612
Contact Person:
Ryan Jacobson MD, Neurology
Rush University Call Center: 312-942-5936
Appointments: 312-942-5936

UI Health Hospital and Health Sciences System
Outpatient Care Center
1801 W. Taylor St., Suite 4E
Chicago, IL 60612
Appointments
Phone: 312-996-4780
Fax: 312-413-7716
Contact Persons
Dr. Charles Abrams, Neurology
Linda Querry, RN
Email: [email protected]
Phone: 312-355-0510
Jessie Alverio (Clinic Coordinator)
Email: [email protected]
Phone: 312-996-4780
University of Kansas Medical Center
Landon Center on Aging
3599 Rainbow Boulevard
Mailstop 2012
Kansas City, KS 66160
Contact:
Andrew Heim
Phone: 913-945-9926
E-Mail: [email protected]
University of Florida (UF) Health
3009 Williston Road
Gainesville, FL 32608
Contact:
Melissa Hines
Phone: 352-294-5000
E-Mail: [email protected]
University of Miami
Professional Arts Center (PAC)
1150 NW 14th Street, 6th Floor
Miami, FL 33136
Contact:
Roberto Fernadez
Phone: 305-243-7400
E-Mail: [email protected]
AdventHealth Neurology at Winter Park
1573 W Fairbanks, Ste 210
Winter Park, FL 32789
Contact:
Nivedita Jerath MD, MS
Phone: 407- 303-6729
E-Mail: Orl.neuromuscular.medicine@adventhealth.com
Brigham and Women's Hospital
Department of Neurology
75 Francis St, Tower 5th Floor
Boston, MA 02115
Contact:
Kristen Roe
Phone: 617-525-6763
E-Mail: [email protected]
St. Louis University Medical Center
Department of Neurology
1438 South Grand Boulevard
St. Louis, MO 63104
Contact:
Research: Molly Labrier
Phone for Appointments: (314) 977-6177
E-Mail: [email protected]
MU Health Care:
Department of Neurology
1020 Hitt Street
Columbia, MO 65212
Contact:
Dr. Karim Salame and Dr. Vovant Jones
Phone: 573-882-1515
Goryeb Children's Hospital *Pediatric Center of Excellence
55 Madison Avenue
Morristown, NJ 07960
Contact:
Nuratullahi Agboola
Phone: 973-971-5700
email: [email protected]
Hackensack University Medical Center
Neuroscience Institute
360 Essex Street
3rd floor, Suite 303
Hackensack, NJ 07601
Contact:
Dr. Florian Thomas
Phone: 551-996-8100
Email: [email protected]
Dr. Rebecca Traub
University of North Carolina
194 Finley Golf Course Road, Suite 200
Chapel Hill, NC 27517
Contact:
For clinical appointments
Phone: (984) 974-4401
Referral Fax: (984) 974-2285
Dr. Urvi Desai
Atrium Health Neurosciences Institute-Charlotte
1010 Edgehill Road North
Charlotte, NC 28207
Contact:
For clinical appointments:
Phone: (704)-446-1900
Referral Fax:
Ashley Clyburn
(704)-355-5650
Columbia University
Department of Neurology
710 West 168th Street
New York, NY 10032
Contact:
For clinical appointments
Phone: 212-305-0405
For research studies
Phone: 212-305-6035, ask for Raisy Fayerman
Email: [email protected]
Oregon Neurology
Michael Balm, MD
1 Hayden Bridge Way
Springfield, OR 97477
Contact: Jody Nichols
Phone: 541-868-9430
Fax: 541-868-9450
Email: [email protected]
Providence St. Luke's Physiatry and Neuromuscular Center
715 South Cowley Street, Suite 228
Spokane, WA 99202
Contact:
Dianna Russell
Phone: 509-473-6706
Email: [email protected]
University of Washington Medical Center
Dr. Nassim Rad
959 NE Pacific Street
Seattle, Washington 98195
CMT Scheduler Phone Number: 206.598.0058
University of Toronto
Hernan D. Gonorazky, M.D
A primary healthcare provider must provide a referral to the Neuromuscular Clinic at SickKids. Once that has been obtained an appointment can be arranged.
CME Education for Credits
View The AANEM Charcot-Marie-Tooth Continuing Education Course for a detailed look at this CMT continuing education course. 
Participants will acquire skills to:
(1) Diagnose CMT based on common symptomology;
(2) Discuss work-up and surgical treatment options for the very young to adults;
(3) Identify potential therapies and bracing that may improve quality of life for those diagnosed and their care-givers.