The biggest Team CMT Kids event of the year featured a group of youth triathletes going the distance to support those who live with Charcot-Marie-Tooth disease.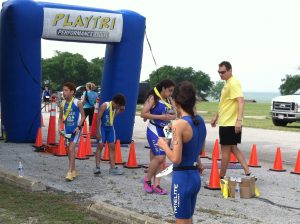 The Playtri Youth and Junior Teams of Dallas, TX are incredible athletes! At the Hidden Cove Youth Triathlon meet last week, these kids, ranging in age from eight to fifteen, jumped into frigid lake water in the early morn for a challenging swim, then hopped on their bikes for a few laps around the park, rounding it all out with a run to the finish line–no, make that sprint to the finish line. Yes, they had enough energy left to burst through that inflated arch, shaving precious seconds off their total time.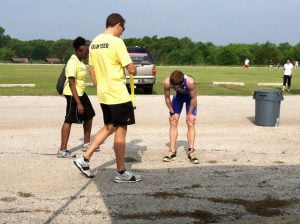 What made it all so moving was knowing that these kids had chosen to support those living with Charcot-Marie-Tooth disease at this event. The team read the book Arlene On the Scene earlier in the year and had learned about the challenges of those living with CMT. They then set out to raise money in the weeks leading up to their first big team competition of the season. Through their efforts and dedication, the Playtri team raised $1275 for the Hereditary Neuropathy Foundation to support their efforts to find treatments and a cure for CMT.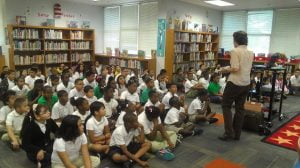 Author Carol Liu also presented at elementary schools in Dallas in the days before the triathlon event, as part of HNF's School Outreach Program. Seven schools received free author visits, and about 1200 students learned about empathy, disability, and CMT through a discussion of the Arlene books, along with a reminder of the power of writing! Cesar Chavez Learning Academy, Sam Houston Elementary, Truett Elementary, Mark Twain, M.T. Reilly, and Central Elementary all participated in these lively discussions. Titche Elementary even blogged about it! As most who've read these books know, Carol grew up in Rhode Island and is an East Coast gal. But Dallas folks sure are friendly! Students asked amazing questions and had great insight into the social issues discussed at the presentations. Thank you to all the media specialists who opened their doors to our School Outreach Program! We'll be coming back to "the DFW" next year for sure!
Thank you again to the Playtri team and Coach Morgan Johnson! We couldn't accomplish our mission without your support!