On December 1, 2016 Rick started his  RV journey across the United States to spread awareness for Charcot-Marie-Tooth (CMT). One would think this is an easy feat but having CMT has its challenges living in a home nevertheless an RV!
Rick has not mapped out a certain plan, but will be guided by his desire to meet new people and follow where the road takes him.
HNF is excited that Rick will be documenting this amazing journey and update the CMT Community weekly about his journey.
Please check back regularly to follow Rick on this adventure!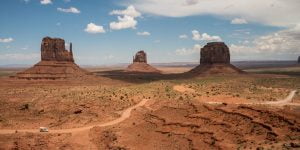 My daughter's visit was wonderful. She quickly learned the basics of RVing and was quite helpful. We ventured from Red Rock Country in Arizona to the Grand Canyon, up through Utah including Monument Valley where they filmed many westerns, and ultimately to the Rocky...