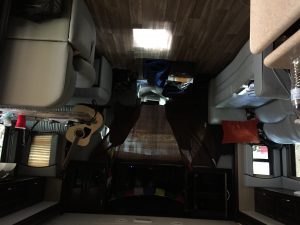 Wednesday, November 29, 2016
One day from start of my maiden RV journey.
If the lead up is any indication of how things will go once I leave, it's sure to be a fantastic journey!
There has been an incredible amount of things to do in preparation for my departure:
Downsizing and packing up an apartment with my daughter's help.

Completing loads of paperwork for such things as change of domicile (Pennsylvania to RV-friendly Florida) and RV mail service.

Having a towbar installed so I can tow my Jeep (this was very costly).

Ensuring adequate healthcare (mostly through the VA).

Getting the bugs fixed in the RV.
It seemed like when one item on the to-do list got scratched out, two would replace it!
Fortunately, amidst all of my pre-launch preparation, I've had much needed time with family and friends. Everyone is excited for me and incredibly supportive.
Granted, there is concern for my safety. I've considered my limitations from CMT and factored these in every step of the way, like taking breaks from driving when I need to.
The advice I hear most often is that I need to keep my cell phone with me and charged at all times and let folks know my whereabouts on a regular basis. That seems a bit constraining, but I promise to do my best and certainly will check-in before heading out into the backcountry.
I also plan to keep everyone updated in my blogs at least once a week. In these blogs, written and video, I'll discuss a range of things, from how CMT impacts me in my travels to must-see (and try to avoid) places. Also, as I've discovered surprisingly little discussion online about Rving for the disabled, I hope to fill some of the knowledge gaps through YouTube videos.
Please join me on my journey by checking in regularly to my blog and chime in if you have any suggestions or comments. It's all a learning process!