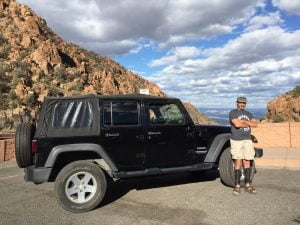 Sunday, 9 April 2017
I'm settling in for a stint in the beautiful and majestic Sedona area of Arizona. I'm staying at a campsite in Oak Creek, where the bedroom window of my RV faces the water and the cactus covered hills. As with many folks, one of the draws to this area for me is the deeper spiritual connection invoked by the powerful beauty of the Red Rock country and the ancient ruins of native cultures. The ruins are high on my list of things to explore to the best of my ability.
A friend I met while at the RV rally in Tucson drove up here in her class A RV (the large bus type). She is "boondocking" it – living off the grid – on a bluff overlooking the Verde Valley. We ran into each other at the grocery store and made plans to take a drive in my Jeep. I had done some four-wheeling earlier in the day on a fairly rugged trail – lots of fun. 
A friend of mine recently asked me what I like most about the RV lifestyle. I replied that it's the people that I've met along the way. I could equally have said the freedom of exploring this already great country and the comforts of your own "home". I recently had a solar system installed on my RV, so very soon I will be boondocking in earnest and enjoying the ultimate freedom of RV living. I'll be able to see the incredible beauty of such places as the Tetons, Yellowstone, Redwood National Forest, and Alaska without having to deal with throngs of tourists.
My friend also asked me if my expectations about RV living were met and I heartily answered to the affirmative. There are downsides to everything, but overall taking up life on the road was one of the best decisions I've made. I suppose the biggest problem is keeping connected with folks. In the most pristine areas you often encounter poor internet connection and cellular signal – I will have to travel to nearest town to send this blog entry. I cannot keep up with the news, but that's probably a good thing. 
On the one hand, there is a sense of camaraderie with my fellow RVers, but on the other a sense of isolation. It is somewhat like my experience while serving aboard submarines while in the Navy; not the same kind of adventure, but adventure it is.