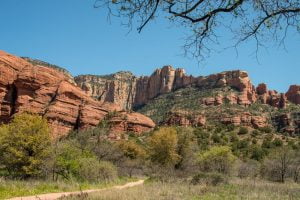 Since my last blog post, I've been dealing with some personal/family issues, which isn't very easy being so far away and with poor internet and phone connection. I'm nearing completion of re-dying the upholstery in my motorhome from the awful gray to cream. A laborious task, but doesn't look bad.
Next week I'll be traveling with my daughter to Colorado, which should bring a respite from the heat in Arizona. I'm glad I got to experience the spring season out here. It was absolutely gorgeous. I took in a film about wildlife in China with a solo RV friend at the Sedona Film Festival and a Bob Dylan birthday tribute concert, which was fantastic. While there, I met up with a woman who has a rare form of ALS. We compared assistive devices – fun conversation yes but important nonetheless.
I overheard someone in her family say "Look, she met someone like her." Not quite, but I get it. Similar to me in the not too distant past, she does not enjoy being out in shorts with her braces as she fears ridicule. I encouraged her to reconsider and accept that some people will stare and you quickly learn to brush it off. I also encouraged her to watch the documentary on Bernadette as that really helped me to embrace my condition. I'm in the process of making plans for camping at Joshua Tree National Park with my cousin and at a park in the Northern California redwoods where a friend of mine, also a solo RVer, is staying. I can't wait for what will be some great highlights of my journey!