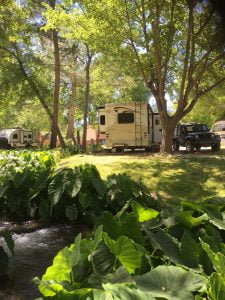 I have completed two weeks of boondocking (living off the grid) in the desert area of the Coconino National Forest in Arizona's Red Rock Country. The new solar electrical system performed as I hoped. I had to scrimp on water usage, but there was plenty of propane to see me through, despite having to use a heater at night. It was all very worthwhile. I was surrounded by fantastic views and vegetation, including an astonishing array of wildflowers. At night I could hear the coyotes. The stillness of the day was broken only by the occasional 4-wheel-drive vehicle and howling winds that stirred up dust devils.
It was somewhat a challenge getting about, mostly when walking the dog, amidst the cactus and thorny brush. Another solo RVer and I visited a nearby ancient Native American archaeological site. She had to help me clamber up a short distance on what is considered an easy trail to get to the site. The site was very interesting. The ruins and pictographs date back thousand of years, long before the Europeans arrived. This was such a treat since it's generally too difficult to visit many points of interest and I don't really enjoy tourist traps, which is what many of these places seem to be. However, there are plenty of places I've been able to see and enjoy.
At the end of May, my daughter will fly out from Philadelphia for a visit. Our plan is to drive the RV to Denver, visit the Grand Canyon, Monument Valley (where many Westerns were filmed), and Rocky Mountain National Park. My daughter will leave from Denver, after which I'll likely head to California and take a northerly route back to the East Coast, returning by the end of August.
While in Sedona, I completed training in transcendental meditation (TM). I wanted to learn TM because of its many proven health benefits to the mind and body. CMT adds a significant amount of daily stress that I believe will be greatly reduced with daily TM practice, along with proper nutrition and regular exercise. When I return to Philadelphia, I plan to do volunteer work for CMT and environmental issues, get back to painting, immerse myself in photography, try my hand at writing, and spend time with family and friends. I'll also be planning my next big venture on the road.
Follow Rick www.cmtrver.org