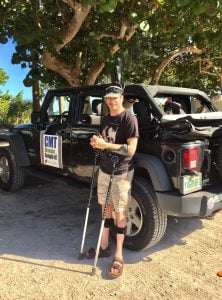 Day 28: Bradenton, Florida
I'm visiting with my sister and nephew, who both have CMT, and my niece who does not. My sister requires a scooter to get around and help from my nephew while he's still able to. 
I try to stay present-minded, but sometimes I cannot help but contemplate my inevitable fate. As I write this blog, my fingers and arms are giving me trouble. I'm using dictation software, but this still requires some use of my hands. Of course, looking towards the future plays into the shift of my lifestyle to life on the road now that I'm no longer working. I'm doing my darndest to retain use of my legs for as long as possible with use of forearm crutches and braces along with exercise, and being as active as possible during my brief windows of opportunity. 
Yesterday, I completed the process of becoming a FL resident with a driver's test, which was prompted by my altered, assisted gait on approach to the DMV counter. The thought did occur of the potential for being grounded, but I quickly realized driving is one of the few things I can do like anyone else; until pain or fatigue sets in.
I've been spending as much time as possible at the beach, not just because of my love of the beach and ocean, but also because of how much better I seem to walk on the sand. The warmer climate down south has been good for my back and hip, with less pain and stiffness resulting from arthritis, which is worsened by CMT. I'm looking forward to moving on and getting back to more of a routine that includes playing my guitar, which is therapeutic as much as just plain fun.
I will soon be heading to the FL Keys for yet more beach time and the apparently laid-back folk. There is a military base with a large RV campground that I'm looking to stay at for a short time. After that, I will head west where I hope to do a good bit of boondocking; off the grid camping in the backcountry. The risks for me are higher, but acceptable and well worth it.
I never thought, nor did some of my friends, that I would be as involved in social media as I am. But alas, I get it. The connections, and re-connections, I have made with others have been nothing short of amazing. I feel blessed by the tremendous support that I've had from so many people, who each in their own way have been a source of inspiration. I am very fortunate and thankful for the platform that the Hereditary Neuropathy Foundation has provided to help me raise awareness for CMT. Many of you have shared with me your experiences with CMT, and for this I feel honored.