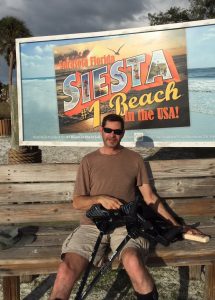 Day 34:
The time to move on from Bradenton, FL, is drawing near.
It's been a difficult past week. My sister was hospitalized (not CMT-related) and I've experienced several extremely difficult days getting around.
Nevertheless, I've managed to get a fair amount of things done preparing to get back on the road. I've met many more amazing people and formed great connections with others, including a couple of folks visiting FL from Alaska who were very curious about CMT.
In dealing with my recent struggles, I would end my days at the beach. Even if I didn't have it in me to walk, I could at least sit and enjoy watching the sandpipers running around picking for food, and the occasional dolphin swimming just past the breakers as the sun slipped out of the sky.
More than anything else, my friends have made the difference in helping me cope with the challenges during my travels. I was sitting at a Tiki bar when Bernadette Scarduzio called to catch up on things. Bernadette shared the improvements she has seen since beginning water exercises in her pool. I'm so thrilled for her! I feel similar results from walks on the beach, but will likely be spending time in pools and swimming holes once I make it to the Southwest.
I was on the phone the other day with my very good friend Pamela for a few hours, which is not uncommon for us. Her life is all about experiences and adventure, awakening my own sense of adventure. When fate brought us together in Arizona, Pamela had recently taken up full time RV living; a lifestyle I was quickly drawn to. Pamela is an amazing woman and I feel fortunate for our friendship.
I admire her tenacity in overcoming incredible adversity and excelling in whatever she takes on, whether in education, career, or the causes she supports. She is guided by a strong sense of spirituality and the wisdom of a sage. Without doubt, we are two nomads who really get each other!
I didn't have a set travel itinerary at the start of my journey and for the most part I still don't. But it's time I start heading West. After a brief stay next week in the Tampa area, I'll head around the Gulf, take in some of the music the region is known for, then will head on to New Mexico. I plan on being in Arizona the beginning of March. Spring in AZ is incredibly beautiful. I will also be attending an RV rally towards the end of the month. Much to look forward to in the coming months.