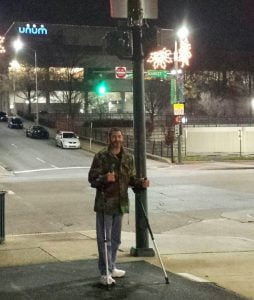 It's taken me six days with several hours of travel per day to get to Chattanooga, TN for a visit with friends.
My new forearm crutches have been really great. I only had one incident where I fell into a display at Cracker Barrel. My new friend Christian, a hitchhiker who I picked up in VA, helped get me up off the floor. There's always some sense of embarrassment in those situations, but I pretty much take it in stride.
I'm just glad there have been no major injuries so far. Most of my physical issues have been back and hip pain, but I don't associate this with my travels. I'm headed to the campground in northern AL later today and will be there for a number of days to explore the region in my Jeep.
I'm looking forward to getting to FL. Despite that the weather is cold here in the South, there's much of interest to see and I certainly want to take in the music that this area is famous for. In the meantime, I'm enjoying the Southern hospitality, food (BBQ, hush puppies, catfish), and my transition to life in a motorhome.
There's a perpetual search for resources like water and propane, along with places to overnight park. I've developed quite an appreciation for Walmart and truck stops. So far though, I've concluded that this an ideal lifestyle for me. The physical demands are a bit more than I'm used to, but I'm not on any schedule and can pace myself. What makes it all so worthwhile is the richness of experiences and excitement that comes from new discoveries and the people I meet along the way.