Walk for CMT September 25-27th
To Join Walk: 
Step #2: Share this page on social media and ask friends/family to support CMT research. (Cut & paste our template below)

Step #3: Walk/roll with your pup anytime on Sat & Sun, 9/25 & 9/26. Show off their CMT bandana and post your photos/videos on social media with #cmtisruff & #cmtwegotthis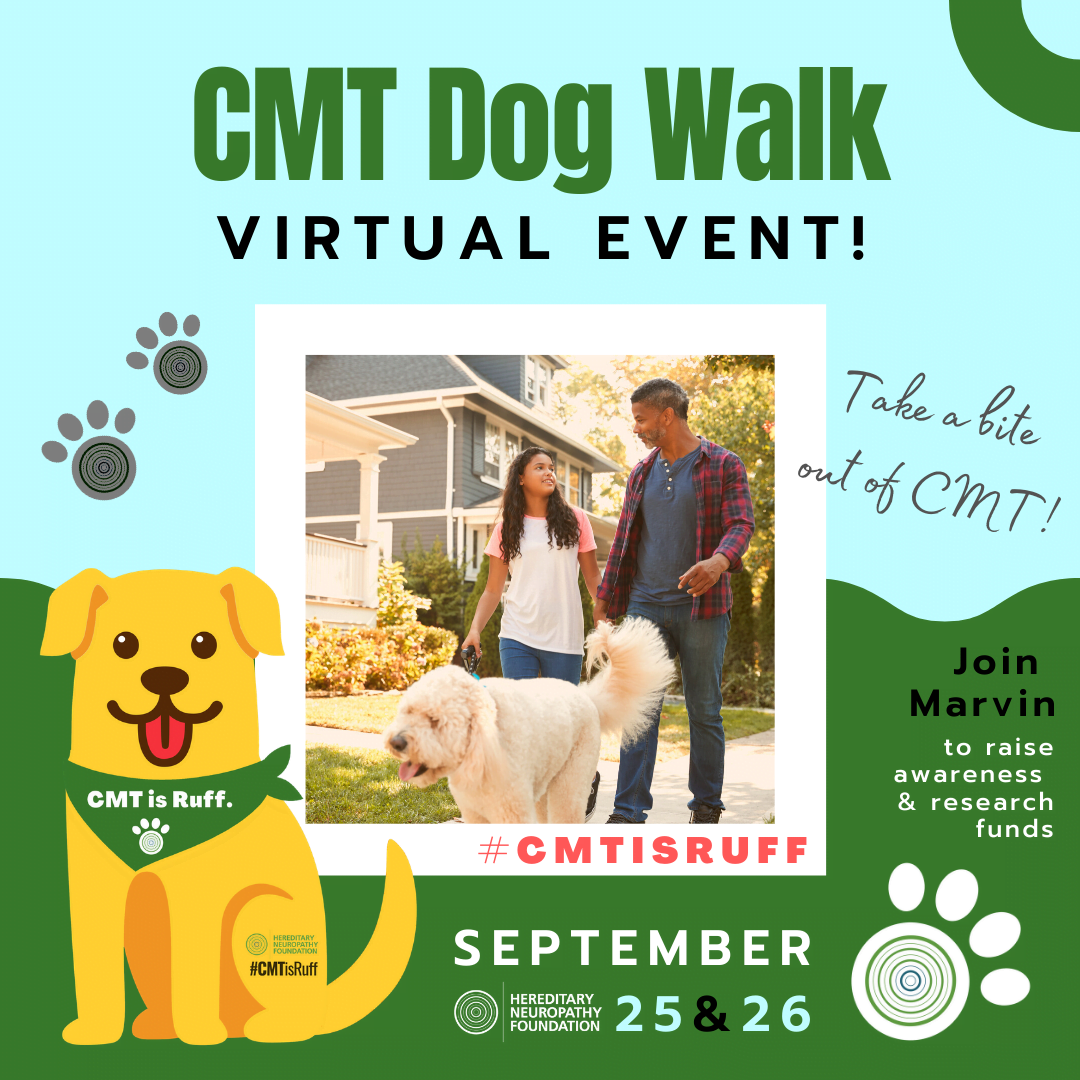 Template for Social Media
Copy, Paste & Post!
CMT is Ruff, but we are tough! I'm walking in the CMT Virtual Dog Walk during the weekend of Sept. 25-26th to raise Research Dollars & Awareness for Charcot-Marie-Tooth (CMT). CMT is a progressive neurological disease affecting over 2.6 million people worldwide. There are currently no treatments but thanks to work of the Hereditary Neuropathy Foundation, we are closer to viable therapies than ever before! Please consider supporting this important cause close to my heart with a donation.
Donate in honor of a friend or family member walking!
#CMTisRuff
Photo Contest!
Post & Tag Us #CMTisRuff 
Order your CMT Bandana with a $25 donation, then style up your fabulous pup and post your best pic to Facebook with #CMTisRuff to enter! HNF will post our CMTisRuff photo gallery on our FB page, https://www.facebook.com/HereditaryNeuropathyFoundation/
The photo with the most likes on 10/4 @11pm EST will win a $50 gift card to Chewy.com
*Photos must be tagged no later 9/30 @11pm EST. Winner must be wearing a #CMTisRuff bandana to qualify.