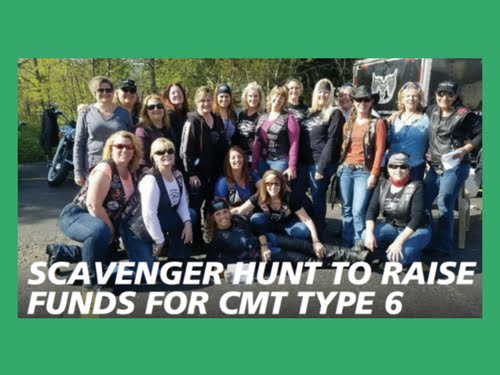 The Rochester Chrome Divas are partnering with Finn's Tap Room to host a Charity Scavenger Hunt in Victor, NY on September 9th. This will be a motorcycle event (cars welcome) where the community can join in and help raise money for CMT Research. Local businesses are participating in the event by donating raffle items and cash for sponsorships.
During the event, "bikers" will ride around the southern tier of the Rochester, NY area and hunt for items, participate in Facebook Live, and take pictures with CMT Type 6 patient Zach Houliares. After the scavenger hunt, everyone will return to Finn's Tap Room, where event participants can enjoy basket raffles, a 50/50 raffle, and a chicken dinner while listening to two local bands.
The Divas have been posting flyers on their daily travels throughout the Rochester area, encouraging people to participate. With CureCMT.org on every flyer, the Divas hope to create additional awareness for this unknown disease that so many are battling. Additionally, one of the Divas is collecting bottles and cans to help raise money for the cash prizes "Cans For A Cause."
Just as Zach Houliares must battle this disease every day, this event will happen rain or shine!
CLICK HERE FOR MORE INFORMATION