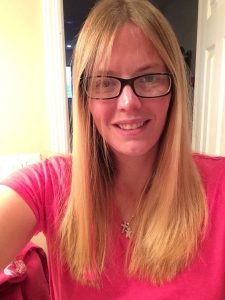 Patients living with Charcot-Marie-Tooth can often feel immense emotional stress of dealing with a chronic and progressive disease. Combined with the physical challenges of this rare disease, CMT patients can feel powerless over their own lives.
HNF is set out to change that today!
CMT-Connect™ is HNF's new patient-focused initiative providing educational workshops aimed at bringing wellness and empowerment to local patients and their families. Our workshops are designed to provide a holistic-educational and patient empowerment approach.
Participants can engage in a safe environment to talk about the emotional dynamics of dealing with a chronic illness. By acknowledging the physical and emotional challenges CMT patients face on a daily basis, we will encourage and empower participants to be proactive advocates for their care, quality of life, and wellness needs.
To help HNF kick off this incredible initiative, we are proud to introduce CMT-Connect™moderator and CMT patient Kristin Gelzins.
Kristin is from Long Island NY, where she lives with her husband and 4 year-old son. Kristin wasn't diagnosed with CMT until her late twenties, but experienced severe CMT symptoms and underwent bilateral hip replacement in the years prior to her diagnosis.  
Even though Kristin uses a wheelchair to get around, that doesn't stop her from being active. During the warmer months, she enjoys kayaking with her family, going on nature walks, and riding bikes with her son. She loves being outdoors, swimming, and strives to give her son the life she believes he deserves. Having a disability pushes her harder to ensure she can give him the kind of life she's always envisioned for him.
Let's learn more about Kristin and what she hopes for CMT-Connect™:
HNF: Where did the inspiration for CMT-Connect™come from?
Kristin: I really wanted to provide people with CMT and their caregivers something different, something to look forward to, and the right tools so they can lead the fullest life possible. I believe we're doing that and will be providing a service to the CMT community that's a bit different than the norm by giving everyone the tools and education they need to bring into their daily lives.
HNF: How has your life been affected by CMT?
Kristin: Having CMT myself, it's always been a struggle to maintain balance in my life: the constant changes with the progression of CMT and my drive to do more for my family and the CMT community. I will be able to bring a unique perspective to the table, not only as a social worker but as a patient who's been there.
HNF: Can you give our community an idea of the workshop format?
Kristin: The workshops will focus more on a holistic approach; providing support, proper education, and positive coping skills while integrating numerous approaches of exercise and proper nutrition. Everyone will have the opportunity to discuss their feedback in future sessions.  
HNF: What are your goals for patients and caregivers through these workshops?
Kristin: I look forward to giving patients new coping skills and tailored activities that can be adapted for all kind of abilities and education/ support for their caregivers.
HNF: What do you see in the future for CMT-Connect™?
Kristin: I look forward to starting in NY and eventually branching out to other states to offer the same kind of approach to patience all over the US.
Want to participate in a HNF CMT-Connect™ workshop in your area?
Visit us at https://www.hnf-cure.org/cmt-connect/ or email at [email protected].