Jillian (known to many as "JuJu") has inherited Optic Atrophy/Optic Neuropathy from her paternal side. This condition, also known as autosomal dominant optic atrophy (ADOA)-plus syndrome, involves vision loss, weakness in the muscles that control eye movement (progressive external ophthalmoplegia), difficulty with balance and coordination (ataxia), hearing loss, disturbances in the nerves used for muscle movement and sensation (motor and sensory neuropathy), and muscle weakness (myopathy).​
In most cases, this mutation replaces the protein building block (amino acid) arginine with the amino acid histidine at position 445 in the OPA1 protein (written as Arg445His or R445H). It is unclear why the R445H mutation causes other features in addition to vision loss in affected individuals. There is no cure and we are working to fund research.
On Saturday, April 23, 2016, local caped crusaders joined Jillian for the 2nd Annual Super Hero 5K to help find a cure for Autosomal Dominant Optic Atrophy (ADOA). Over 200 people joined in on the fun of walking or running for a great cause. Currently, there is no...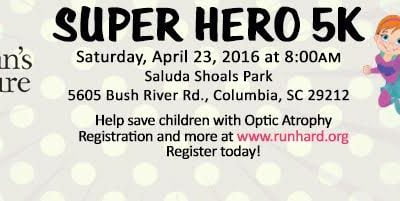 Come join us on April 23, 2016, for Jillian's Cure Super Hero 5K event in Columbia, SC. Jillian's Cure was founded by Carolyn Nava, after her daughter Jillian was diagnosed with Optic Atrophy/Optic Neuropathy: a rare inherited neuropathy with no effective treatments or cures.
Jillian's Cure SUPERHERO 5K Saturday, April 18, 2015 at 7:00am 111 Maiden Lane Lexington, SC 29072 Jillian will lose her vision and hearing without a cure--put on your SUPER HERO costumes as we Save Children with Autosomal Dominant Optic Atrophy! CLICK HERE TO...