Arlene On the Scene: Barrington Books Fall Festival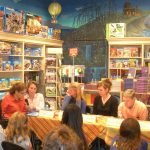 In Rhode Island last weekend, Carol Liu and Marybeth Caldarone introduced some new readers to Arlene at the Fourth Annual Barrington Books Fall Festival of Childrens Authors and Illustrators.  Marybeth read a favorite passage from Arlene on the Scene.  Together, she and Carol answered questions from young and old alike about Charcot-Marie-Tooth (CMT). "The festival was such a nice opportunity to let kids know about Arlene and raise awareness about CMT," said Marybeth.
Barrington Books is an independent book store located in East Bay, R.I.  Beautifully decorated with a nighttime seascape above the children's section and comfy chairs that beg for someone to curl up on them, it is the perfect setting in which to share stories and pictures.  We enjoyed our time with the staff as well the other authors and illustrators.  Thank you Barrington Books for inviting us to participate!