Arlene has been on the road again!
We visited fourteen schools in our home state of Rhode Island in early April. Wow, was it good to go home again!
From Narragansett to Quidnessett, Coventry to Providence, Warwick to Johnston, we… Continue reading →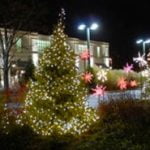 Holiday Shopping Benefit – Shop Till You Drop
Help support the Hereditary Neuropathy Foundation by doing your holiday shopping at participating Americana Manhasset and Wheatley Plaza stores from Sunday, November 24th 11am – 6pm and Thursday, December 5th to Saturday… Continue reading →
Meet Abby Ziff, Sales Director, Strategic Accounts, WebMD. CMT advocate who is passionate and dedicated to helping all of us in our mission to bring awareness and raise funds to cure CMT.
You don't have CMT nor does anyone in… Continue reading →
One Woman's Success with Surgery
The only thing Sarah Clauss has given up because of Charcot-Marie-Tooth (CMT) is waterskiing.  "I live on the lake so I attempted waterskiing but…," jokes the 25 year old, Lake Wallenpaupack, Pennsylvania resident, "it wasn't… Continue reading →
I've been on a banana kick lately. I just can't get enough of them. Does that ever happen to you? I. Crave. Bananas! Banana bread. Vana-rama Smoothie. Banana and Greek Yogurt. So, when I discovered Nothing But Banana, Flattened at… Continue reading →
Meet your Team CMT Manager
"You must always carry an unsolvable problem in your heart."- Persian Poet Rumi
CMT is the unsolvable problem I carry in my heart.  I didn't even know how to pronounce it when I first… Continue reading →
BERNADETTE SCARDUZIO:
The Face of Charcot-Marie-Tooth Disease
BY DEBORAH A. PIERRO of I.D.E.A.L Magazine
In mid-October 2012, I had the opportunity to interview Bernadette Scarduzio (Bern). She is a lovely young woman who suffers from Charcot-Marie-Tooth (CMT), an inherited disease… Continue reading →
Assay Depot And Rare Genomics Institute Award Prizes To Study 26 Rare Diseases
More Than $500,000 Worth of Services, Reagents, and Prize Money